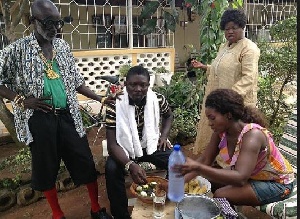 Wed, 5 Apr 2017 Source: Kwame Dadzie
"Whatever affects one directly, affects all indirectly." This is one of my favourites quotes from Martin Luther King Jnr.
Every human being lives in a community whose activities directly or indirectly affect their lives. In keeping with this, it is prudent that either individually or collectively, we embark on social responsibility programmes when the need arises.

The recent scourge of illegal mining has raised hackles of concerned citizens who have already started advocacy works against the harmful phenomenon. Some media houses, principal among which is Citi 97.3FM, have been very loud in this wise.

On Monday, 3rd April, 2017, Citi FM launched its campaign dubbed #StopGalamseyNow by sending out volunteers to town to distribute flyers that had information on the dangers of illegal mining.

Citi FM has not relented in conscientising its listeners on how detrimental 'galamsey' is to the nation. In tandem with this, Citi FM's Umaru Sanda has also done a comprehensive documentary on this subject after visiting some 'galamsey' prone areas.

While the media is strongly educating people on 'galamsey' and creating the awareness of its dangers, it is also necessary that other influential people like pastors, teachers, creative artistes and entertainers join hands.
Talking about creative artistes, we have musicians, actors, poets, painters, among others. They can use their influence to effect a change.

Art is not only to entertain; it is also used to educate, inform, encourage and inspire. I am looking forward to seeing musicians compose songs to fight 'galamsey' – a song themed on the dangers of 'galamsey' and recommendations.

Movie producers, especially those in the Kumawood world have the penchant for making movies on trending issues especially when the issues are very trivial. Do you remember movies like Attah Mortuary Man, Obinim Schwarzenegger, Tonga, Yentie Obiaa, Sir John, Castro Amanehunu, Oh Vera and Ayari Cough? These are movies that were shot to cash in on very controversial trending terminologies and jargons.

It is therefore surprising that when it comes to very critical matters like 'galamsey,' these movie makers are silent. I don't think it must always be about trivialities. The arts must change the world by changing its perception of the world.

Poetry is another powerful art form that can be used to send out information and create awareness. There are a lot of poets and spoken word artistes in Ghana who can also effectively use their craft to affect their audience by way of campaign against illegal mining.
Painters can also create works of art to show how serious the menace is – so can any other creative arts person.

I strongly hope that if the arts and entertainment people should get involved the campaign will travel quickly, easily and the result will be positive.

Illegal mining, popularly known as Galamsey is a common practice among inhabitants of areas like Dunkwa On-Offin in the Central Region, Obuasi in the Ashanti Region, Tarkwa, Prestea in the Western Region and Akwatia in the Eastern Region of Ghana.

It involves the use of alluvial mining techniques that cause devastating pollution of rivers, streams and lakes. Toxins like as mercury that have long term health implications on communities for generations are released into these water bodies.

Scientific research shows that mercury, which is a heavy metal and one of the chemicals used by illegal miners in their activities, has bad effect on the central nervous system.
Apart from polluting the water bodies and the entire environment, 'galamsey' activities also degrade land that can be used to grow crops for human consumption. The lands when dug are rendered useless for crop production, a concomitant effect of which is famine.

Some of these pits are veritable death traps that have claimed many lives over the years. 'Galamsey' is a killer in every sense of the word.

Together, we can all curb this menace. Creative artistes should put hands on deck and help make the campaign more resounding and effective.

#StopGalamseyNow.
Source: Kwame Dadzie