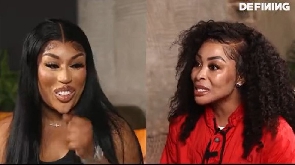 Ghanaian musician Fantana and South African businesswoman Khanyi Mbau, known for her role in the reality tv show "Young, Rich and Famous African," engaged in a candid conversation about their thoughts on sex toys.
In a video posted on blogger Marigyata's Instagram page, the two women openly discussed intimate questions and shared their opinions on why women increasingly rely on these devices.

When asked why women rely on sex toys, both Fantana and Khanyi Mbau agreed that men are becoming less engaged and energetic in bed.

"Men are tired, man. I don't know..." expressed Khanyi Mbau, to which Fantana added, "Men are so lazy now."

Fantana further questioned the notion of men claiming exhaustion after a mere five minutes of sexual activity, stating, "What do you mean you are tired after five minutes of sex?"

She emphasized that sex toys are always ready and available, eliminating the need for breaks or recovery time.
Expanding on the topic, Khanyi Mbau pointed out that men now engage in activities traditionally associated with women, such as manicures, nail painting, hair treatments, and facials.

She highlighted the busyness of their daily lives, mirroring the experiences of women.

In contrast, she expressed her satisfaction with her sex toy, which doesn't require any delays or interruptions.

"I feel like my toy goes further and never tells me, 'Give me a moment or give me a second,'" she explained.




Watch the latest episode of Nkommo Wo Ho below:





ADA/BB