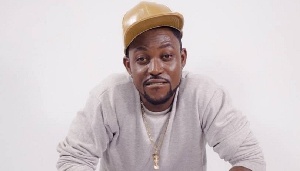 We guess Yaa Pono knew what he was getting himself into when he decided to be a thorn in the flesh of Shatta Wale. The Tema-based rapper has been picking on the SM boss the least chance he gets.
He started this by conferring the title, Gbee Naabu on Shatta Wale and even when the Freedom hitmaker recorded viral video recently to tell Ghanaians that he his mouth is relatively smaller when compared to that of Jay-Z, Ponobiom asked him to shut up and accept the fact that he has a gargantuan mouth.

As if that wasn't enough, he and Stonebwoy came for Shatta Wale again in the song, Obia Wo Ne Master. So obviously even if Shatta Wale doesn't respond, his large army will surely do so.

Hence one of the SM fans, identified as Dennis Hanssam, sent Yaa Pono to the cleaners by labeling him as a failure who has achieved nothing his pathetic rap career.
Hanssam even said One Corner hitmaker, Patapaa who came into the industry just last year, has won an award whereas Ponobiom has won no award in his entire career although he has been around for over ten years.

See below: