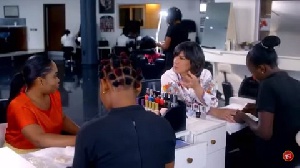 A single woman in Accra, Ghana, tells Christiane Amanpour that economic necessity is what drives some women to date men who can support them -- even if they're married.
"Ghana our economy is such that you just need someone to take care of you because you can't make enough money as a woman here," she said.

"When you want to get an apartment, in Ghana you pay two years in advance and I just started working, where will I get the money,....."

"He expects me to be loyal and just to date him only and give him sex when he wants.You can't say no.You have to give him what he wants otherwise he is going to think you are cheating on him, " she added.

CNN featured Moesha Boduong on an episode of 'S£x & Love Around the World'.
CNN's Christiane Amanpour talked with Moesha Bodoung on the topic "When being a mistress is a financial decision".

Watch the video below