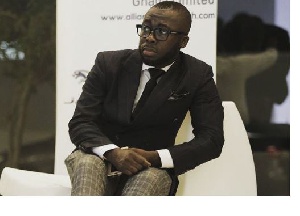 Veteran radio presenter and disc jockey, Andy Dosty, has expressed his disappointment in highlife musician Bisa Kdei for alleging that the media has been paid to stop airing his music.
This is after the award-winning musician took a swipe at the media 'for neglecting him' when answering a question on why he is not getting the needed attention from the media in a Twitter Q&A with his fans.

"It's an agenda. They have taken some money to do that. If you love my music keep loving it. The media is fake," he said.

However, Andy Dosty who has added his voice to the growing trend has questioned Bisa Kdei's bases for making such a derogatory statement about the same entity that lifted him to fame.

In an interview with Caleb Nii Boye on Live FM's showbiz program, he said "If an artist says you have been paid not to play my songs, how about you have been paid to play my songs. Who will pay me Andy Dosty not to play your songs (Bisa Kdei) and I will also accept that?"
"For me, its absolute nonsense if u ask me. I like Bisa and his songs, but he got it wrong this time around. When we were playing your songs, who paid us? this kind of thing turns my stomach. When did he even come to thank us for playing his songs," an angry Andy Dosty added.

He further noted that he played Bisa Kdei's songs such as 'Mansa, Brother, Hammer, and my favorite Atomesu' even when the musician didn't send him copies personally because "I love to support, he couldn't even call to thank me for promoting him for free."

Andy Dosty says Bisa Kdei must apologise to the media for the comments.