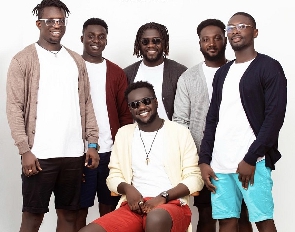 Ghanaian music band, The Bank Fra, has expressed its concerns about the current categorization of awards in the music industry, particularly concerning the group category.
In a recent interview with Paula Amma Broni on Talkertainment, the band leader, George Gogoe, stated that they feel that the current grouping system is too broad and does not reflect the unique style of music that they produce.

"Usually, they nominate us under 'Group of the Year' which I think is too broad. For the type of music we do, we are in the same group like groups like Keche. Those people are mainstream, and you definitely wouldn't win the award," he said.

The Band Fra!'s unique blend of afro-fusion music, dominated by highlife, sets them apart from mainstream groups, which makes it difficult for them to compete in the same category.

The band members suggest that award and event organizers should consider creating a separate category for bands, which would give them a fair chance to compete with other bands with similar music styles.

"Moving on, I think award organizers or event organizers should probably do a band category. Probably the band of the year that makes sense because, when you put us under one umbrella, 'Group of the Year', it's too broad," George Gogoe added.


Watch the latest episode of Talkertainment below:





ADA/BB