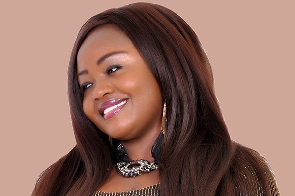 Gospel musician, Selina Boateng has revealed that being a celebrity has prevented her from doing certain things she was used to.
"Yes as for that one a lot, since I became a celebrity it has prevented me from doing so many things that I used to do previously," she remarked.

Talking to Amansan Krakye on Property FM in Cape Coast, she revealed that buying food by the roadside will make onlookers lose faith in God.

"I can say that in the past I can have cravings for some waakye being sold on the streets and I will stand by the road and buy some to eat.
"But nowadays since I became famous and a celebrity it's hard for me to go stand by the wayside to buy food.

"Being famous and standing by the wayside to buy food can make someone looking at you have a wavering faith in the Lord," she stated as MyNewsGh.com sighted.

"So there are certain simple things that I used to do previously but now I can no longer do those things because I'm a celebrity,"; she continued.