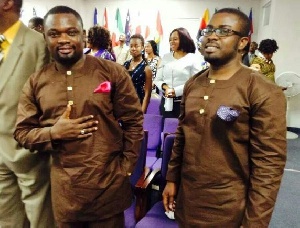 Mon, 7 Jul 2014 Source: Adom News
Adom News can confirm that Ghana's gospel music sensational duo Willie and Mike, are gearing up to release their maiden DVD as part of the 20th anniversary celebration next year.
The duo, comprising of William Owusu Asamoah II and Michael Asumadu Adomako are currently on a tour to the USA and Canada, where they are shooting portions of the maiden DVD.

Group member Willie told Adom News the maiden DVD would have videos of songs mainly from their new "Favour" album, which is currently making waves here and abroad.

"It will also feature some of our live ministrations here in the states and in from Canada," he said. The group has been together for 19 years going on 20. They shot to fame on the back of their version of a Sonnie Badu song, "Covenant Keeping God".

They have since been on tour to several part of the world, and established their own music production company called Favour House Productions, supported by their own recording studio.

Their tour this year has so far taken them to several cities across the USA and Canada so far. These include New York, New Jersey, Minnesota, Philadelphia, Maryland, Virginia, Texas, and Ohio.

They are currently in Atlanta, Georgia, from where they would head for Massachusetts before going to Edmonton, Canada from their final program.
Charity…

In addition to their Favour House Productions, the two also have the Willie and Mike Foundation, which is a charity organization dedicated to helping the needy.

Willie told Adom News that they are also using the tour to raise funds to support three needy homes back of in Ghana.

"We have the list of needs from three orphanages, including Kumasi Children's Home, Angels of Hope in Tarkwa and another orphanage in Sunyani – we have raised enough money to meet their needs and to give them some cash when we return," he said.

Willie noted that the group has been working with some NGOs in USA and in Canada to organize conference and fund-raising events to support the activities of Willie and Mike Foundation. The NGOs include OneGH owned by a young Ghanaian gentleman in Atlanta.

Double wedding soon…
But it seems Willie and Mike are doing more than just singing, raising funds and shooting videos on this USA/Canada tour.

Adom News can also confirm on authority that the two are feverishly preparing for a double wedding on the same day soon. Both of their fiancés are in the states and so they are working towards the D-day with them. Adom News will bring you the exclusive details soon.

The duo is due back in Ghana next month but not until they are done with a special three-day Prophetic Worship Revival slated for August 8 – 10, 2014 at Edmonton, Canada.

The final event at Edmonton, Canada
Source: Adom News