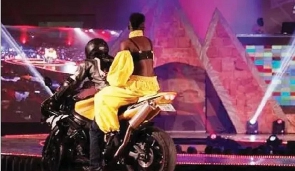 One of Ghana's sensational artists, Wiyaala has won the admiration of her fans with her recent performance on stage.
Wiyaala shared a video on her social media page where she stormed the page on the back of a motorbike.

Her entrance to the stage marveled at her fans who commended her for always outdoing herself when it came to her craft.

Wiyaala also known as the Lioness of Africa is known for her powerful vocals and energetic performances.

She has been steadily gaining international recognition with her fusion of traditional African rhythms and modern influences.

Wiyaala's music has garnered attention not only for its catchy melodies and captivating performances but also for its meaningful messages that address social issues and celebrate African identity.
The award winning singer and songwriter is a native of Sissala in Northern Ghana. Her name Wiyaala is explained as " the doer" in her language.

Her Afro pop songs are often sang in either English or the Sissala-Waala languages. Her talent has taken to a lot of places in Africa and the world.

Wiyaala's music references West African Folk traditions and contemporary Afro-Pop, sometimes evoking comparisons with African stars such as Mariam Makeeba, Brenda Fassie and Angelique Kidjo.

Watch the epic entrance below;