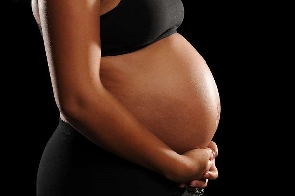 A pregnant woman who was waiting in queue to withdraw her money at a bank in Port-Harcourt, Rivers State, went into labor in the process.
In a viral video, people were seen running to rescue the woman while protecting her from onlookers using their phones to capture the incident.

A witness stated that the pregnant woman had joined the others in the waiting queue under the scorching sun for a very long time before going into labor.

Fortunately, they were able to get a taxi to convey her to the hospital, and they prayed for her safe delivery.

Read some comments below


s_airemen: "Most worrisome part is that she had to be shielded from people who rather than seek every possible opportunity to help , wanted to record a woman in labor pains. We all need to rethink our priorities."
thefoodnetworknig: "In a sane country, everyone must make way for her to do whatever she has to do in the bank without spending a second on the queue. Nigeria"

kwueenie: "E no get the kind suffering wey never happen for Nigeria."

janes_sparkles: "A woman is in labour, you bring out your miserable phone to record? Where did our humanity go"

just_naven: "Make them name her NWAKAEGO if na girl. Safe delivery to the mother"

Watch the video here: