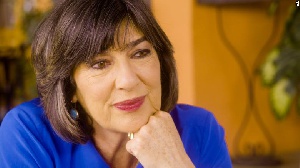 When we started filming the CNN Original Series "Sex & Love Around The World," I was both curious and nervous about what we might find.
It turned out that all along my journey, no matter the country, culture or religion, I heard stories about sex and family honor being used as weapons to silence women and keep them under control. Religion, politics and tradition are often in a conspiracy against love, sexuality and free choice, especially for women.

And yet, I was also encouraged to see signs of change. Everywhere we went, women were having more of a say about sexual satisfaction, consent and connection, and young people were reshaping the idea of modern love.

This series was meant to look at sex and love from the perspective of women who have not always been heard -- and frankly, who have not always been asked these types of questions. I wasn't sure that anyone would actually agree to speak with me on camera, but I was pleasantly surprised by how vocal women were and how much they were willing to share!

I learned so much talking with dozens of everyday individuals in cities around the world, including a former porn star in Delhi who had just adopted a baby girl, a host in Tokyo who is paid to simply entertain lonely women in sexless marriages, and an actress in Accra who happened to fall in love with a married man.


So it was quite distressing to hear that one of our contributors, Moesha Boduong, has been the target of public shaming by the Ghanaian press and the Ministry of Gender, Children and Social Protection. Numerous media outlets in Ghana have taken to villainizing this young woman based on an excerpt of the conversation included in a 1 minute, 30 second video of "Sex and Love."

As the host and the namesake of this series, I feel compelled to speak up on behalf of our contributor. I want people to recognize Moesha's right to speak up and the courage she showed by sharing such intimate details about her personal life.

As a woman and a journalist, I'm hurt and angry to see such an innocent woman condemned by the press and by many people on social media in this way. It's to the point that Moesha is not sure she can return to Ghana safely. I am so surprised to see this happening in Accra, a city that has rightly got so much attention recently for being one of the most economically and politically successful capitals in Africa. Indeed I was heartened while I was in Accra, listening to a speech by the President himself, defending the rights of the free press to report fully, accurately and fairly.



That is what we did, with help from the many wonderful Ghanaians who participated in this beautiful story. It was a range of women, young and mature, single, married, divorced, widowed, Christian, Muslim, Vodun, a bead seller, an OBGYN, even a market queen: Everyone acknowledged that love in Accra is complex but no one judged the choices another woman makes in the pursuit of love and happiness. And in this city that calls itself the most religious in the world, we spoke to men, too, including the Archbishop of the Action Chapel megachurch who told us "We don't put women down in our society. We don't do that. I'm surrounded by women. The success of my ministry, many, many ways I can equate it to the women around me."
I urge my colleagues in the Ghanaian press to reserve judgment for the whole episode, and for the people to understand that all must be seen in context, not judged on one excerpt.



I also respectfully urge the President of Ghana and the minister of Gender, Children and Social Protection to stand up for the rights of one of their own who was simply enjoying a carefree, boisterous and mostly humorous conversation with me.

I want women all over the world to know they can and should be able to talk about matters of sex and love without fear and without shame.