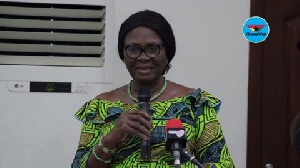 The Ghana Tourism Authority (GTA) has launched the Maiden Women in Tourism summit and awards to promote women's economic empowerment in tourism through partnerships to encourage gender equality using tourism as a tool.
The summit is on the theme: "Driving Ghanaian women empowerment through tourism" is to help bridge the gap between men and women employed in the tourism sector.

Mrs Bridget Katsriku, Former Chief Director of the Minister of Tourism Arts and Culture, launching the event said the summit was important at this time, because tourism was one of the world's largest and fast growing industries and provided a lot of opportunities for women to gain access to jobs and income generating activities.

She said the event, organised by the Ghana Tourism Authority under the auspices of the Ministry of Tourism, Arts and Culture and in partnership with African Tourism Partners (ATP) was scheduled to take place on June 21 at the Accra International Conference Centre.

She said it would also help improve employment and entrepreneurship opportunities for women by facilitating their access to jobs, create possibilities for career development, create opportunities to improve educational levels of women in the industry through planned interventions, and build the capacity in leadership through networking.

Mrs Kastriku, who is also the immediate past chairman of the Public Service Commission, indicated that the summit would also facilitate improvement in entrepreneurship through knowledge sharing regarding accessibility to funds, and other resources to support women's enterprises.
"The cardinal principles of women in tourism are to inspire, motivate, encourage and support women across the sector while advocating greater gender balance in leadership roles in the industry. It is also to give women the voice to articulate their rights as women and collectively demand change in the industry that would be more beneficial to them."

She said despite the progress of women participation in development, there was still a wide margin in the proportion of women and men in gainful and descent employment, taking into consideration the overall population of women, saying as long as majority of the population cannot fully participate and contribute to the development efforts, the social and economic growth would remain unsustainable.

She said it was important that efforts were doubled to take women out of poverty and make them to contribute to development through empowerment in all fronts, adding that there was the need to reframe tourism policies to make them gender friendly, relevant and current in order to maximise the potential of women.

Mrs Kastriku said the summit among other things would discuss areas including; balancing gender perspective in tourism policy development, building professional career path in the tourism and hospitality industry-opportunities for women empowerment, sources of funding for SME's in a changing environment and digital and social media marketing-a strategic component of financial viable business in the 21st century.

She said by the end of the summit, participants would have been prepared to take off to the next level of empowerment by demanding their due.
"The empowerment of women through tourism will only be beneficial if our products attract both domestic and international tourists to visit Ghana in large numbers, so we must equally make the effort to develop our tourism products to become internationally competitive."

Mr Akwasi Agyemang, Chief Executive Officer of GTA, stated that the summit was as result of the need for women to be recognised for their contribution towards the growth and development of the industry, as well as the opportunity for them to connect with one another, share ideas and learn from best practices while encouraging business linkages.

"We have women engaged in several businesses in tourism; restaurants, handicrafts, hospitality and what we call the medium size enterprises. So it is important that we find a way to empower them, whether through financial intervention, training or whether through capacity building and others.

He said "so bringing them together as a group and a network is the first step and also creating a platform for engagements and dialogue is the second step and that is what we are doing with the Women in Tourism Summit where we have renowned speakers, experts from the UNWTO, Dubai Tourism, and funding experts coming in to share experiences."

He also noted that the Summit was to promote Ghana as a right destination as the country would host the inaugural Africa Tourism Leadership Forum in September in this year.