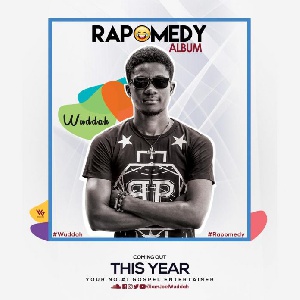 Rap artiste Wuddah has been making waves for a few years now. The number one gospel entertainer's songs like "Dey Der" and "Aaba" have been trending all over the airwaves and there's more to come.
Wuddah is set to release his debut album titled "Rapomedy" this year. The "Rapomedy" album is Wuddah's debut album. It is a fusion of rap and lyrical comedy. Bar for bar, punch line for punch. You have to wait for this masterpiece of an album.

UGMB would definitely keep you updated. The album is definitely dropping this year so keep for fingers crossed. Greatness is on the way. Follow the hashtags, #Wuddah and #Rapomedy on social media.
Follow @urbangospelblog for more updates. Stay blessed.