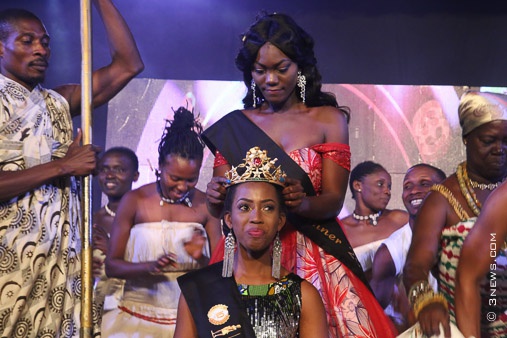 Mon, 24 Oct 2016
Source:
3 News
Western Region's representative in this year's Ghana's Most Beautiful Yaba has been crowned winner. Yaba beat competition from four others – Northern's Hiba, Eastern's Akos, Greater Accra's Naa and Ashanti's Badu – to emerge winner of the crown for keeps.
She drives away a four-wheel Suzuki Vitara and becomes GH¢10,000 richer. She will also embark on a holiday trip to South Africa and be decorated with souvenirs from sponsors for one year.

First runner-up is Northern Region's Hiba, who will receive GH¢8,000 ad souvenirs from sponsors. While Eastern Region's Akos came 3rd, Greater Accra Region's Naa and Ashanti Region's Badu were 4th and 5th respectively.

Setting the stage for Sunday's resplendent final at the Accra International Conference Center was multiple award-winning hip-life group VVIP.

This ushered in the five finalists, who after a well-rehearsed choreography, appeared in casual wears. Since there were no vocal assessments from the judges, the five contestants only had to show off their wears. They were, however, scored on how good they looked in them. Much was rather seen of the contestants in the individual performances. The show had begun with 10 contestants and half made it to the final after 12 weeks Akos, real name Esther Akosua Safowaa, lifted the curtains with her energetic call for peace.

Laced with a live report on ballot counting from the Ketu South and Bantama constituencies, she gave patrons something to cheer about after declaring results for the opposition New Patriotic Party (NPP) – in their waterloo, Ketu South – and for the ruling National Democratic Congress (NDC) – in Bantama. Hiba, real name Muhiba Fialele Idriss, came next, as a nurse dispensing her services to all Ghanaians irrespective of tribe and political affiliation.
She called for justice: "Let justice prevail". Badu mimicked division in a traditional palace but called on all to embrace unity and togetherness. Yaba, who hails from Axim, near the birthplace of Ghana's first president, was concerned Osagyefo Dr Kwame Nkrumah may not be happy with the polarized nature of politics in the country.

She capped her performance with a rendition of the national anthem. Western Region's Yaba became the eventual winner Naa put up a rather solemn performance in honour of her mother. She attributed her achievements in life so far to the advice and guidance of her mum, who was seated among the audience. Q & A segment The mettle of the five contestants were tested by the judges in the question and answer segment. Judge Linda Ampah tested the intellect of the finalists Hiba suggested the organisation of tourism clubs in schools in her answer to Judge Linda Ampah's question on how to promote domestic tourism if appointed the Chief Director of the Ministry of Tourism, Culture and Creative Arts.

She also suggested hiring buses for the youth to embark on sight-seeing especially on public holidays in order to be spurred on to recommend tourist sites to others. Yaba was asked what she would do to curb the illegal mining menace. She explained that the situation boils down to unemployed youth, who seem to be taken advantage of by chiefs and government officials.

She suggested education and sensitization on the adverse effects of illegal mining to discourage many from engaging in it. Badu was eloquent in her explanation on the origin of Adinkra symbols, citing some of the symbols as M'ahu m'asie. "They represent the concept of aphorisms which are short statements that explain the wisdom of a group of people," she said to loud applause.

Badu traced the history of Adinkra symbols to a chief from Gyamang in La Cote d'Ivoire Naa expressed faith in Ghana achieving Sustainable Development Goal 2, arguing that just like any other goal, SDG 2 can be achieved especially when the youth are incentivized to embrace agriculture. Last but not least, Akos recited the national pledge and explained its significance in fostering unity and oneness.
At the end of the contest, Yaba, the 21-year-old student of the Kwame Nkrumah University of Science and Technology, came out tops.

She is expected to embark on a breast cancer awareness campaign, a project derived from her aunt and "a close relative" falling victims. Past winners of Ghana's Most Beautiful were on stage to celebrate the reality show's 10th anniversary.

Immediate past winner Esi expressed gratitude to all and sundry who helped her over the last year in embarking on her project of teenage pregnancy awareness.

She called for peace ahead of the December 7 elections, stressing it is the only way to ensure development. "In war fathers bury their sons, but in peace sons honorably bury their fathers."

Sunday's event was graced by Minister of Tourism, Culture and Creative Arts Elizabeth Ofosu-Agyare and her deputy, Dzifa Gomashie, chiefs and queenmothers from across the length and breadth of the country as well as top executives including board members of Media General, owners of the MG group of companies.