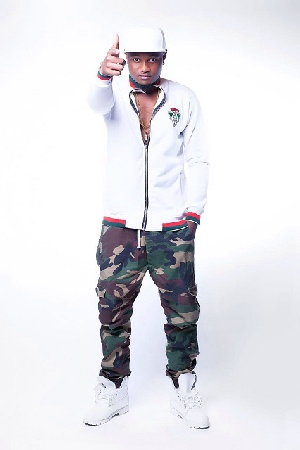 Kumi Guitar has grown some new 'balls' people! He's not backing down on anyone and is very determined about blowing up and has employed the tactics of the game, probably from his friend at Zylofon Shatta Wale.
After calling another highlife artiste Paa Kwasi, who was a former member of the music group Dobble by describing him as 'Golf player and not a Highlife musician, Enwai who used to be in the same group with Paa Kwasi has jumped into the 'kitchen to forcefully enjoy some of the beef'

We don't know if Ennwai did so because of his past affiliation with Paa Kwasi or he just wanted to also tap into the hype Kumi and Paa Kwasi were enjoying since their beef begun.

In a Facebook post, Enwai described Kumi Guitar as a comedian and likened him to Nkomode. Funny enough, Enwai failed to acknowledge Kumi as a man and as he tagged her with 'sister' and went ahead to say that he would give him attention when he's able to get at least one hit song out there.

Kumi Guitar saw his post, and decided to also fire back–Kumi is not joking people!
In a Facebook post in reaction to Ennwai's post, says he is only reacting so Ennwai can also trend.

"I didn't want to pay attention to this unfortunate post but let me help u Trend cos Paa Kwesi dey trend pass u now. Was just trying to unite the beautiful group u Greedy guys couldnt keep But if u still want to fight alone, let me advice u, U will regret I never mentioned u from the beginning cos u were missing in action, I mentioned ur group leader(Paa Kwesi) so why did u involve ur fine self in it Dnt insult ok, nkomode brought smiles to Ghanaians so am proud n pray I do same with highlife Look fr who u like n mk sure u mk a mark in gh with ur Music U are the one who wants hype, Cos I never mentioned u,cos u not relevant Mr.Fine boy,n looking nice but no talent. I personally think u behave girlish, I wonder if u not one of the disthings Before I go, pls look fr a friend to sign u too If u are soo bothered about my signing Many are called few are chosen" Kumi Guitar's post read.