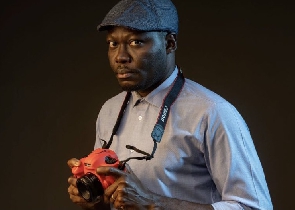 Entertainment pundit, Arnold Asamoah Baidoo has taken a swipe at the Food and Drugs Authority (FDA) for its decision to place a ban on the advertisement of alcohol by celebrities.
According to him, this decision is harming the entertainment industry, as many celebrities rely on endorsement deals with alcoholic beverage companies for income.

Speaking on the United Showbiz show on November 18, Arnold argued that the FDA's move could impact the industry's revenue streams, preventing beverage companies from sponsoring events and productions. He suggested that the FDA's attempt to create and promote decency is rather ruining the entertainment sector.

"Most of these alcoholic beverage companies take on celebrities as brand ambassadors, and you and I know for a fact that one of the biggest revenue-generating points for these celebrities is endorsement deals.

"If you cut such an avenue, you are killing the entertainment industry. Beverage companies can't sponsor events and productions. The FDA thinks it's creating sanity in society, but it's destroying the entertainment industry," he said.

He pointed out that some international brands, like Heineken, manage to advertise their products without explicitly showing celebrities consuming alcohol while questioning why a similar approach couldn't be adopted in Ghana.
"If you look at the adverts by Heineken, they do the adverts without showing the celebrities actually drinking them. So why can't we do the same?" he questioned.

Arnold also praised the Gaming Commission and the National Lottery Authority for utilizing celebrities instead of banning them. He emphasized the positive impact celebrities could have in educating children if used to promote responsible drinking.

Expressing frustration, the pundit criticized regulatory bodies like the FDA, stating that they often make decisions without providing data or transparent justifications. He voiced support for a potential lawsuit, suggesting that letting the court decide might be the best course of action.

"The likes of the Gaming Commission and the NLA are actually using these celebrities instead of banning them. Look at the progress they've made. This is because these celebrities have influence and following.

"If your mandate is to protect the children, why not use these celebs to educate the children in that light. But right now you're killing the industry," he said.
Background

Mark Darlington Osae, the artist manager of Reggie 'N' Bollie and Skrewfaze, filed a lawsuit against the Food and Drug Administration (FDA) and Attorney General, Godfred Yeboah Dame, citing the ban on celebrities endorsing alcohol-related products.

It can be recalled that the FDA prohibited celebrities from endorsing alcoholic products, an act which they deemed inappropriate influence to the youth.

Mark Darlington Osae submitted a writ of summons on November 11, 2022, claiming that the 2015 FDA recommendations are unfair to the creative arts sector.

"No well-known individual or professional may be utilised in advertising for alcoholic beverages; this is against the 1992 Constitution's provisions 17(1) and 17 (2).
"Articles 17(1) and 17 (2) of the 1992 Constitution guarantee quality before the law and prohibit discrimination against persons on grounds of social or economic status, occupation, among others, and consequently null, void, and unenforceable," Osae argued.

Prior to this lawsuit, a number of celebrities including Camidoh, Brother Sammy, Wendy Shay, Shatta Wale, and Kuami Eugene, spoke against the law and asked that regulations be repealed.

However, the hearing which was scheduled for November 15 and was expected to be presided over by a seven-member panel of judges, was adjourned to January 17.

ID/ AD

Click here to follow the GhanaWeb Entertainment WhatsApp channel


Ghana's leading digital news platform, GhanaWeb, in conjunction with the Korle-Bu Teaching Hospital, is embarking on an aggressive campaign which is geared towards ensuring that parliament passes comprehensive legislation to guide organ harvesting, organ donation, and organ transplantation in the country.

You can also watch the newest episode of Nkommo Wo Ho on GhanaWeb TV below: