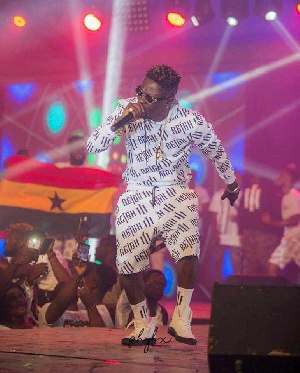 Reggae dancehall artiste Shatta Wale has said he refused to allow his contemporaries Samini and Stonebwoy to perform at his Reign album launch on Friday, 12 October 2018 because they showed up without informing him.
Samini later tweeted to express his disappointment with the 'Gringo' hitmaker.


Congrats @shattawalegh on your album launch.just like you once wanted to surprise me on saminifest stage and I let you, I'd wanted to do the same but I waited in the car together with @stonebwoyb for over an hour only to be told you refused the gesture. #supportourown huh?????????????????

— SAMINI (@samini_dagaati) October 15, 2018
Shatta Wale, who had earlier apologised to the two artistes for snubbing them, in a U-turn, told Accra-based Joy FM on Friday, 26 October 2018 that Samini and Stonebwoy cannot just barge onto his stage without giving him prior notice.
The 'Freedom' hitmaker said: "When people say things like Stonebwoy and Samini came to your show and [you didn't let them perform], I say Samini is my friend but if I want to go to Samini's show, I'll call him a week or two weeks [ahead] but you can't just move to my show and expect that [I let you perform].
"If I were working with white people, I swear they will arrest and jail them [Samini, Stonebwoy] because white people work with time and plan. So, for you to come here and you want to perform, no; you can't do that. Jay Z can't be performing and his friend will come and say that because he and him grew up in the same area or because they are all artiste, [he should allow him to perform]. Everything is planned and that is what I've studied about Ghanaian artistes, they don't plan."
Shatta Wale explained that: "When I went to Samini's show, I called him two weeks ahead, my team called his team, they spoke and arranged everything and the fans loved it. I did same with Stonebwoy, so, I wonder how come you want to come to my show and you won't even text me to say: 'Bro what's up? I want to pass through your show', but you just come there, I won't see that as a surprise because I'm a very serious person".

Shatta Wale recently launched his Reign album which is currently number 6 on Billboard World Album chart.