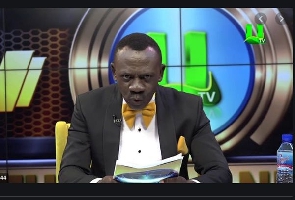 Ghanaian actor turned TV presenter Akwesi Boadi, popularly known as Akrobeto, has mocked movie producer and radio presenter Ola Michael's choice of footwear.
The said shoes, have recently became a subject of discussion following his appearance on the August 12, 2023 episode of UTV's "United Showbiz."

The footwear in question was closely zoomed in during the show, prompting a flurry of social media comments as some users branded Ola Michael's choice of shoe as faded.

Among those who joined the conversation to lambast Ola was Shatta Wale.

In response, Ola Michael sought to clarify the matter on his radio show, explaining that the perceived fading was a result of color combinations and the lighting conditions of the night show.

Reacting to the brouhaha on his show "The Real News" on August 18, 2023, Akrobeto shared his thoughts on the matter.

Akrobeto suggested that Ola Michael should be more mindful of what he wears before stepping out in public, especially given his role as a presenter.

"So, Ola, you thought we would praise you for wearing this shoe or what? You are a presenter, and people know you. So, what at all made you wear it?
"Is this a shoe or canvas? You can see this one is a canvas shoe. So, if Shatta Wale says something about your shoe, he deserves to say it, Ola. Even for me, I have to compose a song for your shoe. Shoe kakoma…" Akrobeto said in jest.

He added "Ola, wherever you are, I greet you, but next time, no matter the haste… Even if you could have walked here barefooted, we might have thought it was for exercise purposes. But having this shoe in your room or house, Ola, no, you can't wear this shoe. You are disgracing the whole UTV viewers."


Here's what Akrobeto has been saying after Ola Michael's shoe went viral.#RealNews #UTVGhana pic.twitter.com/NAbCzvpPJf

— UTV Ghana (@utvghana) August 18, 2023
AM/SARA
Ghana's leading digital news platform, GhanaWeb, in conjunction with the Korle-Bu Teaching Hospital, is embarking on an aggressive campaign which is geared towards ensuring that parliament passes comprehensive legislation to guide organ harvesting, organ donation, and organ transplantation in the country.
Meanwhile, watch the latest #SayItLoud video on GhanaWeb TV with Etsey Atisu below:





You can also watch the latest episode of The Lowdown on GhanaWeb TV, as we explore the need for organ donations, below:
















Watch the latest edition of BizTech and Biz Headlines below:





Share your news stories and ideas with GhanaWeb




To advertise with GhanaWeb