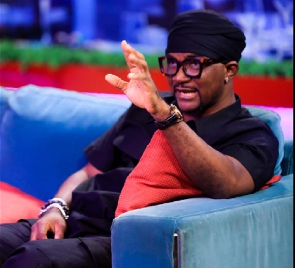 Entertainment pundit, Mr Logic, is the latest to wish Nana Ama McBrown well in her move from Despite Media to Media General by describing her as one of the best female presenters in the country.
The former host of UTV's United Showbiz has received backlash from a section of the public as well as some former colleagues who claim she is ungrateful for accepting an offer from a different media house.

Mr Logic, a regular guest on McBrown's show has chosen to sing her praise instead of pointing accusing fingers at her.

In a Facebook post dated March 15, he wrote: "Only 1 thing I can say about this PERCULIAR LADY MCBROWN in the midst of everything.

"She is the "HIGHEST FEMALE FACE" in this space. Don't ask me WHY U Just can't hate HER. God bless amm Basaa."

Speaking on 3FM, McBrown expressed her appreciation to her new family for the grand welcome party at her unveiling ceremony on Monday, March 13, 2023.

"You have no idea how I am relieved and happy to be a part of this family. You have no idea...I wasn't expecting the grand welcome...to have Captain Smart and the rest to wear my t-shirt with Berla around going live, yourself, Jonnie, the drums. I wasn't expecting that, It was beautiful. Right there, I felt home," she disclosed.
Check out the post below:



Watch our latest programmes below:





OPD/BB