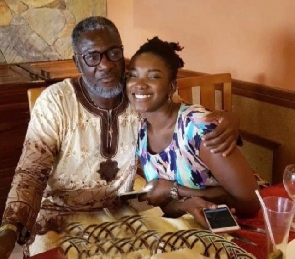 The late Reggae/Dancehall and Afrobeats star Ebony Reigns' father, Nana Opoku-Kwarteng, has eulogised his daughter on her fifth death anniversary saying she will forever be remembered, adored and pampered by family, friends and fans.
Mr Opoku-Kwarteng spoke these words at the ceremony to mark five years since the passing of his daughter born Priscilla Opoku-Kwarteng.

At the Osu Cemetary on Wednesday, February 8, 2023, Nana Opoku-Kwarteng addressed a gathering of family and friends including an elderly man who appeared to be of European descent.

He detailed the achievements of his daughter in pride and grief.

"She was a songstress, a very good one [at] that. She's made a mark in Ghana," he began.

"I should say she is the first ever female artiste to have won the most prestigious award on [this] land of ours, here in Ghana," he knocked the ground with his fashionable walking stick and with it, pointed to the tombstone of the former Rufftown Records star.
"She was called Priscilla Opoku-Kwarteng. She was once again called Ebony Reigns. She left us five years back today," he went on and narrated how Ebony lost her life by a road accident on Thursday, February 8, 2018.

"Suddenly, when she was going to see [her] mom, when mom returned from the United Kingdom, she [Ebony] was about to travel to Europe to tour musically.

"Unfortunately, indeed she did meet mom, but on her way to Accra," he stopped, overcome with emotion, and put his cane under his left armpit. "She never survived. She had an accident." Mr Opoku-Kwarteng's narration of the his daughter's passing was truncated by tears.

"Nana Hermaa Ebony. She died gruesomely," he seemed to regain his composure and knocked the ground repeatedly with his stick to punctuate his words. "I've always said that."

He revealed the purpose for the gathering which included Ebony's mother and elder sister.
"So we're here today, five years since she left us to lay wreath and also to have acquaintance, so to speak, with her and say to her that we still love, we still appreciate, we still cherish, we still adore her, and we shall always do because she deserves that," the grayed man in black's lips trembled in speech.

"She did well, she made her mark. She put us in the limelight, myself and [the] family," he said crying. "Who does that?"

"People might not understand why we celebrate this pretty person, but I have my reasons. If you were to be in my shoes, you'd very much understand who Opoku-Kwarteng is and what he stands for. She's given me the mark that I so much deserve, and my family. We're so proud we had her in our family, but suddenly, we lost her," crying, he pointed to Ebony's sculpture on the grave. "We miss her, and we shall always miss her."

"We thank you," he bowed before the grave. "We thank you, Queen. We appreciate you. We're here today, your royal majesty, to have acquaintance with you, to have a word with you, to say we appreciate you, and to say we miss you so much," he hugged himself solemnly.

His family could not hold back their tears behind their sunglasses.
Raising his voice, he barked: "Ohemaa (Queen), rest well. Rest in peace. You made your mark, as young as you [were]. You made a mark. You turned things around. Ghana shall forever and ever celebrate and adore you because you deserve it.

"21 years [only, but] you had gone all over the world. Everybody loved you. Why, because you made your mark."

He stressed that the deceased music star's family, friends and fans, "shall forever and ever, adore, cherish and pamper you because you did so well."

Having said this, Mr Opoku-Kwarteng instructed that someone pray with the congregation at the Osu Cemetary so the commemoration would officially begin.

Nicknamed the 90s Bad Girl, Ebony shot to fame with hits like 'Poison' and 'Kupe' in 2017.
Two months after she died, she made history at the Vodafone Ghana Music Awards (VGMAs). She was crowned the first female artiste to win the ultimate trophy; the Artiste of the Year.