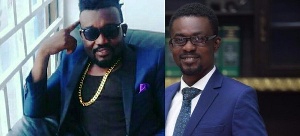 The manager of the late talented dancehall artiste, Ricky Osei Agyeman, popularly known as 'Bullet' has reacted to a Tweet posted by the Chief Executive Officer of Zylofon Media, Nana Appiah Mensah about the artiste wanting a bail-out to be free from Ruff Town Record label.
He said the tweet from the respected CEO was derogatory to the 'Maame Hwe' crooner and her management.

Bullet told Okay FM that the Zylofon Media boss has betrayed Ebony's soul for disclosing a secret conversation they both had.

"Nobody told me about Ebony's dealing with the Zylofon man, I only saw the tweet from the man and I even think it's disrespectful to have one-on-one conversation with someone and leak it out to the public. He has betrayed Ebony and also you've announced to the whole world that Ebony is only worth $100k.

"Someone also disrespected me to the level that he said that $100k could be a live changing moment for me because if I should manage her even 20years, I can't make that money…What are you talking about, are you God. Do you know how much money we have and even can that money save or bring Ebony Reigns back. you don't disrespect people like that. We've work hard."

According to him, Ebony was not under any bondage, while stating that the quoted bail out amount is even disrespectful to the Ebony brand and the RuffTown Records label.
Meanwhile, Sammy Flex on Monday stated on his show, that Bullet would have benefitted immensely had Zylofon Media signed a deal with Ebony Reigns.

According to the Head of Communication for Zylofon Media, they would have paid Bullet $100,000, an amount to set Ebony free and that would have been a breakthrough for Bullet.

Reacting to Sammy Flex statement, Bullet said his artiste is worth more than $100k, and was therefore unfortunate for anyone to quote such a peanut.

He disclosed that after his successful meeting with Akon, he expressed interest in signing Ebony and they were almost through with the deal which was more than $100,000.

"Ebony was not in bondage. She was an artiste who I can say was even dictating to management. She wasn't under any strict management. Contracts have clauses in them but if she wanted a bail out, due to the relationship that existed between us, it wouldn't have been a big deal. Perhaps someone tried to persuade her with an amount.
"The amount invested in Ebony was even more than $100,000. How much is $100,000? Is Ebony worth $100,000? The biggest artiste in Ghana now; her bail out is $100,000? To respect her value as an artiste, you shouldn't even mention $100,000. I don't get it. Bail out in which way?" he asked on Okay FM.

Ebony, born Priscilla Opuku Kwarteng died on-the-spot with two others in a fatal accident which occurred on Thursday, 8th February at Mankranso on the Sunyani-Kumasi highway.

She had been to Sunyani to visit her mother who had come from abroad when the unfortunate incident happened.

Ebony was a Ghanaian dancehall/afropop songstress and died at aged 20.