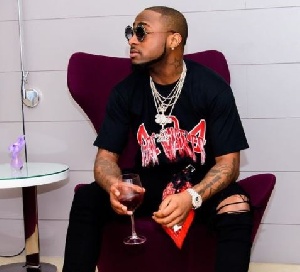 Prophecies about Dancehall artiste, Shatta Wale will not come to pass because he "go live long," says Nigerian artiste Davido.
On Thursday morning, Wale posted a photo on Instagram with a caption many believe is aimed at people saying he will die this year.

"Cowards die many times before their deaths; The valiant never taste of death but once.

Of all the wonders that I yet have heard, It seems to me most strange that men should fear;

Seeing that death, a necessary end, Will come when it will come." reads the caption.

Davido left a comment on the post assuring him that he won't die anytime soon, and he will live for a long period: "U go live long Amen! SM FOR LYFE."
Background
Early this year, Shatta Wale threatened to mobilize Shatta Movement – his fan base to burn churches if prophesies about him dying before December 2018 does not happen.
"Make nobody try show me God because me I know God, make nobody try show me the Bible inside because me I know the Bible inside. If we catch December and I am giving this long notice…if we get to December and I dey, me and the Shatta Movement, unless the President come beg me, we go burn churches for Ghana." stated Wale in a video posted online.
Kumasi-based Prophet E. K. Mensah of Christ Vision Prayer Ministry is said to have told his followers Wale will die in December 2018 if he doesn't repent from his sinful ways.

The Ghana Police Service will invite Dancehall artiste Shatta Wale over his threats to burn down churches if he is still alive by December 2018.

According to a Daily View Gh report, the service will question the 'Taking Over' artiste on what it says is him inciting his fan base to engage in a violent act.