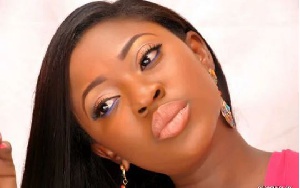 Domestic violence against women in Nigeria should be a big deal and treated accordingly! The victims are mostly told to endure while the society ignore the bruises and beatings.
Nollywood actress, Yvonne Jegede has joined a list of Nollywood stars who are against domestic violence and abuse on Nigerian women.

Reacting to a recent story of a Nigerian woman who was abused by her husband for 10 years, Yvonne said that any woman in an abusive relationship should pack her bags and leave once he hits her for the first time.
"Fellow women of this world, I really don't think this topic of domestic violence can be emphasized enough. It is simple as you being in that position that you can't as much as breath because your next move or next thing you say can result to this. If a man hits you once, I beg pack your bag and leave, you survived this one today doesn't guarantee you will survive the next one. People have died from it and are still dying from it #DomesticViolenceKills, leaving the children to suffer "you actually thought staying because of them would change anything". Let me put this out there, nobody is worth injured like this for.