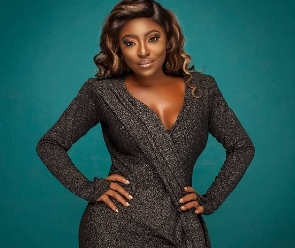 Nigerian actress Yvonne Jegede has reacted heatedly to a viral report alleging she held a secret wedding with her colleague, Regina Daniel's politician husband, Ned Nwoke.
Jegede, on her Instagram page, shared a video where a blogger made the allegation.

According to the blogger, following her wedding to Nwoko, Yvonne deleted all of the images from her page and underwent Brazilian Butt enhancement surgery.

A furious Jegede queried the blogger's guts for propagating false information about her.

She tagged the post as evil and fake, cautioning against believing everything they see on social media.

The mother of one wrote: "When many people tell you they know 'something' is happening or believe something has happened, you asked them how they got to know, they tell you they read or heard it from the Internet.
"Oftentimes, they heard it from an idiot like the person talking in this shameless and false post. How could you be this bold about falsehood? How can you lie so confidently? How can you intentionally tarnish people's image and damage relationships all because you want to attract people to your blogs?

"This funny post is evil and false in every intent. I won't dissipate energy fighting you. Karma is already dealing with your destiny because if you have one, you won't be all gas up about other people's lives when yours is tattered.

"How does deleting my photos on my page give off anything??? The effrontery to mention my son sef, I suppose give you one dirty slap. #DontBelieveEverythingYouSeeOnline

"Ij Ada Igbo you can get traction without trying to make someone look bad FFS."

In the post's comment section, Regina Daniels burst into laughter as she hailed her senior colleague.
She wrote: "My queen oooo", accompanied by several laughing emojis.

This follows some months after Yvonne Jegede recently got a surprise visit from Regina Daniels and her billionaire hubby, Ned Nwoko.

Jegede who was on set with Gina, confessed she was stunned to see the businessman come 'specifically' to see her.

See her post below: