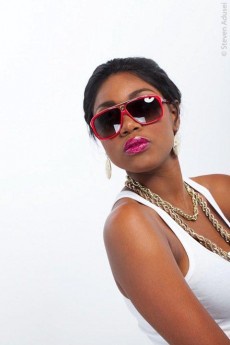 Tue, 15 May 2012 Source: News one
Actress Yvonne Nelson is staging a comeback this month in a role with ladies' man Chris Attoh and a host of others in an upcoming movie titled 'Single & Married' by Media GH.
The two are working together for the first time and reports from the movie's set over the weekend assured Ghanaian movie enthusiasts to brace up for a thrilling experience when the movie finally hits the big screens.

Pictures from the set are interesting, with one capturing Yvonne and Chris in a wedding scene. Anita Erskine and songstresses Efya and Tiffany are some of the stars on the set and sources say there is a more interesting cast list to be made public soon. Nadia Buari is also on the set of the movie.

A-list actresses Nadia and Yvonne last starred together in 2009 when they appeared in 'Heart of Men'. It's being four years since then and their new movie is expected to clear the air on rumours that they don't see eye to eye.

Some interesting things are happening on set as reports say Chris Attoh has good chemistry with Efya and the two were in some sizzling kissing scenes which amazed director Pascal Amanfo.
Last week, NEWS-ONE broke the news that Efya and Anita Erskine were joining the movie industry. Efya's decision interestingly raised a lot of arguments, with some people in support of her move and others against it. Signals from the set indicate that she is doing well. Tiffany, who just released a new single 'Akye Wo', is the latest to join the cast.

The movie's story has been described as captivating and an everyday story that the ordinary African can relate to. It will be told in a narrative form, with Anita Erskine as the narrator while Yvonne, Nadia and Chris play the lead.

Anita is reportedly 'killing' her role with her celebrated eloquence while Chris appears to be taking his bad boy role to the next level. Yvonne and Nadia's roles are a bit relaxed in this movie while Efya and Chris' "shake the levels", according to the source. Apart from photos of Yvonne and Chris in the wedding scene, there were group photos from the set.
Source: News one