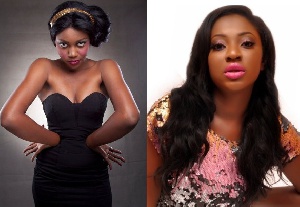 Nigerian actress Yvonne Jegede tells fan via her Twitter account not to confuse her with Ghanaian Yvonne Nelson, because the two brands are different.
"Most of you may not know me (Yvonne Jegede) so well so it is not surprising that some fans still confuse me for Yvonne Nelson."

In her own words unedited, she wrote: "There is a difference between the two brands. I am the good actress, but Yvonne Nelson is the attention seeker. When you say a good actress, you call Jegede, when you say attention seeker, you call Nelson…"
"Nothing annoys me more than when people see me and they start to sing "Yvonne Nelson, I have ur medicine".. get the name correct. Its JEGEDE", she added.

No matter how this plays out, be sure that Ms Nelson will come back stronger just as she has stood firm to silent her detractors.