Fashion Fri, 26 Jan 2018
Click for Market Deals →
Yes! Black and Proud Clothing has gained nomination in the Outstanding Fashion Brand of the year category at the Africa Goodwill Icon Awards 2018.
YB&P started operations barely a year ago with a sole aim of achieving a positive shift in the mindset of Africans & serves as a positive reinforcement that black skin is beautiful.

Zino Lexili Ogazi, Creative Director & Chairperson of YB&P stated "at YB&P today, we are constantly challenging ourselves to do things differently, questioning the status quo and taking risks within the framework of a learning & rising organization, based on a culture of positivity, reinforcement, empowerment, respect and inclusivity, luckily our efforts are yielding results for parent company supreme dynamic concepts limited , which derives a good percentage of profit from YB&P with reference to the YB&P Campus tour & sales from November to December 2017.

We are thankful to our sister brand, Miss Black Beauty Africa for the inspiration to establish Yes! Black & proud clothing.
YB&P has experienced not only financial success but industry recognition and a welcome to spotlight & for this we are grateful"

Eric Michael Ogazi, Image Consultant & Fashion Stylist of YB&P revealed that the brand's uniqueness & work so far is appreciated by its customers and will not jeopardize this but rather strive for excellence & remain committed to authenticity.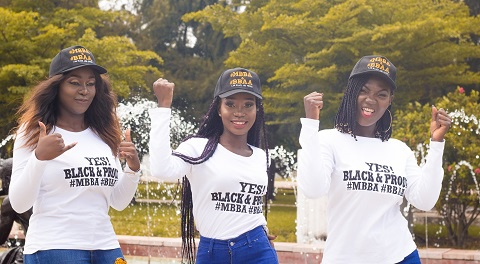 Source: Eric Michael Ogazi
Send your news stories to and via WhatsApp on +233 55 2699 625.