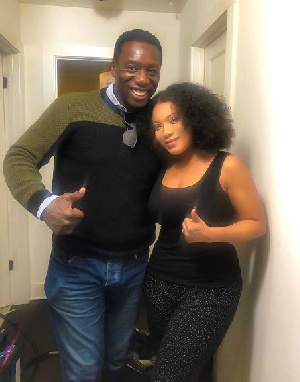 Actress Zynnell Zuh is currently filming in the United States of America (USA), one of the world's biggest hubs for filmmaking.
The award-winning actress, who has been out of town for some time now, has since been shooting alongside other film bigwigs out there.

NEWS-ONE has gathered the film's working title is 'Shadows', and it's being shot in Georgia, USA.

It stars British Nigerian actor Hakeem Kae-Kazim, American-Nigerian actor Sam Adegoke and New York-based actress Wakeem Hollis, who is known for her role in 'Dynasty', among others.

Zynnell on Saturday shared a photo of herself and Hakeem on the set on her Instagram.

"The other day on set with Hakeem Kae-Kazim," she said underneath her post.
It is not readily known the role she is playing, but she is about the only Ghanaian actress on set at the moment.

Zynnell is one of Ghana's phenomenal actresses. She has been in the acting business for over a decade. She has grown to become a film producer and also a style icon with a number of awards to her credit.

The current film she is working on in the USA will add to her long list of films she acted in. The film is also expected to win her new audience.