▶ Click Here for Full AFCON Coverage ◀
Ten years ago, on June 18, I was convicted on charges of "wilfully causing financial loss to the state" and "misapplying public property" and sentenced to five years imprisonment by Mrs Justice Henrietta Abban, sitting as a judge of the Fast Track High Court in Accra.
That same day, I filed an appeal against the decision. On November 30, 2016, by a unanimous decision of the Court of Appeal, the judgement of June 18, 2008 was set aside and I was acquitted and discharged on all counts.

The Court of Appeal determined that there had been a miscarriage of justice in the proceedings that took place on June 18, 2008. I praised God for fulfilling the word of assurance I had received days after my imprisonment: "Justice will again be found in the courts and all righteous people will support it". (Psalm 94:15)"

Supreme Court on IFC

Prior to the acquittal by the Court of Appeal, the Supreme Court had also unanimously decided on January 19, 2011 that Justice Abban was wrong in an earlier decision that the International Finance Corporation (IFC) was immune from the jurisdiction of the courts of Ghana and, therefore, could not be subpoenaed to testify.

That decision of the Supreme Court was pending at the time Her Ladyship Abban decided to proceed to judgement in the trial. She had earlier stayed the proceedings before her, since, if the Supreme Court decided in my favour, the IFC would have to come and testify. She herself had said previously that she wanted to avoid "a mistrial or miscarriage of justice". When I reminded her on June 18, 2008 about that earlier decision, she responded "I rescind that decision!"

Judgement delivered

Without a prior notification about judgement that day, and in the absence of my counsel, Professor E.V.O. Dankwa, who had notified the court that he had to travel out of the country, Her Ladyship then went on and delivered judgement, urged on by Attorney-General Joe Ghartey, who was in court with his full team of five lawyers, knowing in advance what was going to take place. Prior to that day, he had not appeared in court with regard to this case for almost two years.
Nsawam prison

By the time Her Ladyship Abban finished with her judgement, there was a massive presence of the police and prisons officers at the court premises.

I found myself at the Nsawam Medium Security Prison in the afternoon of June 18, 2008 to begin the five- year sentence that was pronounced. In less than five months, however, precisely on the morning of Sunday, November 16 , 2008, I was out of prison in circumstances that were nothing short of miraculous!

An asthmatic attack in the prison cell through the night of November 15, 2008 brought me to the point of death. In the morning, after the cell doors were opened, I was rushed from prison to the Nsawam hospital.

"Body quake"

Only the grace of God kept me alive as I prayed through "the watches of the night" of Saturday, November 15, 2008, in the prison cell. That evening also, the fifth of the monthly praise vigils that my wife, Esther, organised after I was imprisoned, was held.

As I later learnt, there was in the air a particular sense of urgency as well as confidence in God's power to take me out of prison that night. The Rt. Reverend Paul Adu gave an exhortation based on Acts of the Apostles chapter 16, from verse 23 onwards, where Paul and Silas were thrown into prison and were miraculously released.
Fervent prayers were offered for the prison gates to be flung open for my release, just as Paul and Silas experienced following a time of praise. So, indeed, it happened! I thank God that, whilst for Paul and Silas, an earthquake loosened their chains and flung the prison gates open, in my case, a "body quake", as Esther, aptly referred to the asthmatic attack, was what God used to bring me out of prison. What a privilege to share in the experience of Paul and Silas! Praise breaks chains!

Medical care

Esther arrived at the Nsawam Hospital that Sunday, November 16, 2008 morning, soon after I was taken there. That was providential. As the hospital authorities acknowledged that they did not have the facilities to cope with my state, she now set about getting an ambulance and arranging for my transfer to a hospital in Accra.

An ambulance eventually came- from Koforidua- and I was moved initially to 37 Military Hospital that morning and then to the Intensive Care Unit at the Korle Bu Cardiothoracic Centre.

I thank God I received such urgent professional attention and deep compassion from all the doctors and other medical staff that I came into contact with. At Korle Bu, it was not only doctors at the centre itself but also a number of specialists who rallied round to give the best possible care.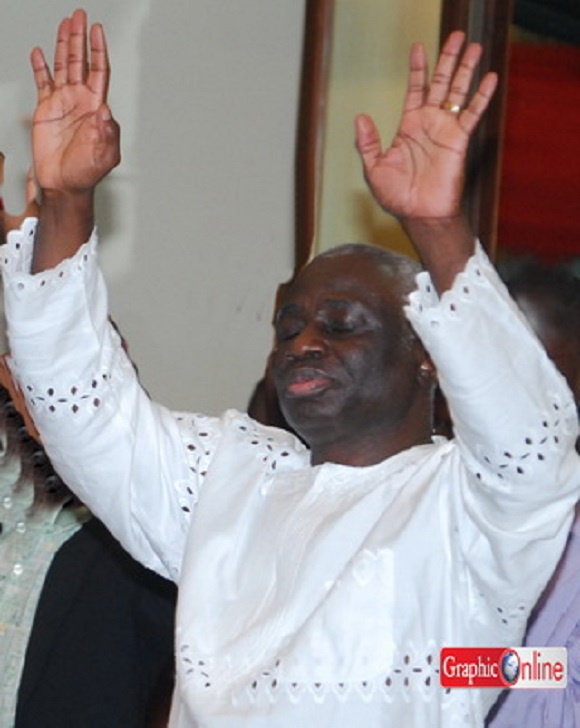 Praise
The words of a modern Psalm of worship, "I will worship you…lift you high above the earth and the heavens, You are Lord, yes you are!", composed by our own Danny Nettey of blessed memory, which ministered to me immensely during the months in prison, sum up how I felt-and still feel -about what I went through on June 18, 2008 and thereafter.

God meant it for good! This was the message of a powerful sermon preached on my first Sunday in the Nsawam prison by Pastor Jones Owusu-Adjei from the Global Revival Ministries, Asamankese.His main text taken from Genesis 50:20, -Joseph saying to his brothers after they found him in Egypt: "You meant it for evil, but God meant it for good…..".

Another word that God laid on my heart in those first days in prison was: "… do not be afraid of those who kill the body and after that can do no more…" (Luke 12:4).

I recalled also how that morning of June 18, 2008, in our daily meditation on God's word, Esther and I had read a passage from Genesis about the Garden of Eden and the beauty of His world with benefits to mankind. When I sat on the bed in my cell at Nsawam prison that evening I could hear birds singing in the compound. It struck me that this too was God's garden! The hills around the prison also deepened that sense—a garden in which I had been placed for the moment. There was, therefore, no bitterness in me about being there.

Wonderful things

Looking back, there were so many wonderful things during the months in prison that gave me cause to be praising God continuously. The extraordinary love and dedication of my wife; the campaign she organised and the people who participated in it with such dedication and commitment; the monthly praise vigils, the compassion and solidarity that were shown to me throughout the country —irrespective of political party affiliation—and also from abroad, for instance, by people in the international oil and gas industry, were all extraordinary.

My mother, another extraordinary woman of prayer, then in her, eighties, made the journey to Nsawam many times as did many family members and friends. People around the country and, indeed, in various parts of the world took up my cause in unbelievable ways. There were pastors and members of our church and other churches who also came to express their love and support. Many sent messages of encouragement.
Legal counsel

Among the remarkable people who have been part of God's gracious and awesome script of my life has been my legal counsel, E.V.O. Dankwa, whom I first met at the University Christian Fellowship and at the Law Faculty during our earliest days on Legon campus in October 1966.

He, like my junior counsel, the late Roland Agbenoto, gave his all, sacrificially, entirely at his own cost, to represent me. I could not have had it better! In this inner circle too, doubling up as part of the legal team and simply being beside me in court at every sitting, was Henry Martey Newman, a former Chief of Staff. He was there that early morning of June 18, 2008.