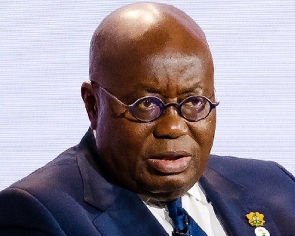 Anyone in Ghana, who is rational and free of psychiatric disorders, should not believe Akufo-Addo's claims of embarking on any significant projects under his administration.
I don't blame Ghanaians if they have trust in the NPP or believe in Akufo Addo but rather, I will blame the Ghana media because they have a role to play by making the lives of the people better but they have refused to do so.

That's why after almost seven years in power, with nothing to prove, Akufo-Addo continues to fool them. Let me start by reminding Ghanaians that Nana Akufo- Addo, the country's current leader, has been on a sod-cutting frenzy ever since he took office nearly seven years ago.

You must ask yourself how many of the projects that the president announced have been completed, or whether any of them are in the stages of completion. Yet, this government has lied to Ghanaians that they have created one million jobs

and built factories that nobody knows where they are situated.

Apart from Agenda 111, which has brought the president great shame because it is now widely accepted by the majority of Ghanaians that it was a scam, he also demolished a hospital building that served the La-Teshie-Nungua communities on the promise of constructing a modern hospital for them, but that promise has since been broken by the wind.
In light of this, if you are an average person, would you believe the president if he says that he will "initiate 8,000-unit affordable housing project?

According to the president, he decided to embark on a new housing project instead of continuing with the Saglemi Housing project, which had encountered issues and stalled since 2016 during the John Mahama era.

However, Ghanaians should evaluate the debt that Akufo-Addo's administration has

accrued for the nation without significant projects and compare that to the completed and uncompleted projects, amid the low debt Mahama incurred before leaving office.

That should tell Ghanaians that Akufo-Addo is not only corrupt but a liar and a deceiver. He aims to bring shame to Mahama and surpass him, but soon after taking office, he realised that the job of a president is not as simple as he had previously believed.
In addition, because he didn't receive a better education and instead relied on his father's connections to enter politics, he lacks the wisdom, maturity, and

knowledge necessary to rule, which is how his corruptible appetite got started.

I'll explain to Ghanaians why Akufo-Addo doesn't want to continue the projects of the previous administration. His assertions that the project's lack of enthusiasm is due to money being misused are absurd. Corrupt politicians don't think of the well-being of the people, therefore; hate continuing old projects, since starting new projects allows them to inflate the cost of the projects.

Akufo-Addo will not continue Mahama's project which will not benefit financially. Consequently, I keep saying that the Ghanaian media isn't doing a good job helping the people, even though they ought to be aware of this fact as any shrewd journalist would be expected to. That's why Ghana's infrastructure and economy continue to be destroyed by Akufo-Addo's avarice and desire for

corruption.
I would prefer to live in poverty and die with dignity than accept a bribe and support someone like Akufo-Addo, whose curse will follow you until the day you die.

The president told Ghanaians about the 8,000-unit cheap housing project on Tuesday, August 1, 2023, during a sod-cutting ceremony. Unfortunately, those present forgot to ask him when the other projects will start. Akufo-Addo is not a typical human being because, in addition to his deceit, greed, oppression,

and wickedness, he has also killed people to obtain his goals.

As a result, a person with such a mind cannot improve someone's lost in life other than by killing them once more in the name of power. Since no one can find the same demonstrations against Akufo-Addo, despite the devastation and

carnage he has caused, great journalists like the host of 'Loud Silence TV' Kevin Taylor, have been repeatedly demanding that are there those that attacked Mahama during his best days of governance?
After a while, I learned that Akufo-Addo had handed positions to everyone who had opposed the prior Ghanaian president. This ought to serve as a clear reminder to Ghanaians of who Akufo-Addo is.