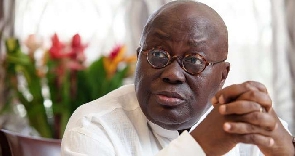 It is only overly strict people who would criticise others so much just because they try to lighten a tense mood with a joke.
That said, isn't it about time we move past President Nana Akufo-Addo's "joke" when he responded to the NDC Chairman over the call to disband party militias?

Granted, it's not in serious situations when we are discussing matters of National Security threats that the Commander-In-Chief should be playing mischief with the process but come on, everyone makes mistakes and I think we can let this one slide.

After all, to err is human, no?

And if you think he is the first President to crack a joke with a matter of serious national importance, then think again. John Mahama has done similar, some may say worse.

At the peak power crisis in 2015, or was it 2016, Mahama suggested it was only persons who were not smart that were laying off workers to cater for the cost of steep tariffs and costly fares to fuel generators. Well, to be fair, what he said was "such smart businessmen are not laying off workers, but were rather investing to improve their production capacities."

It was a joke gone bad, we all agreed but we moved past it. Same, we can move beyond Akufo-Addo's joke that he sees no basis in the suggestion that civil society groups, peace bodies and the media should take part in the dialogue to disband political party militia.
Unless the President would want to tell us he was not making a joke and that he was serious. That would be just unfortunate, because I refuse to admit that he read that appalling statement and signed it confidently.

And the effrontery it was written with, "I am not aware of any vigilante groups that are associated with any of these bodies, as your letter suggests. Political party vigilante activity in the country has, unfortunately, been associated with the National Democratic Congress and the New Patriotic Party. I, thus, see little basis for your request."

Well, unfortunately, most unfortunately, I must say I am inclined to accept the rhetoric that you are an intolerant leader. Among all the suggestions made by the NDC, this has perhaps been the most sensible, and for you to dismiss it so simply, makes me doubt your… anyway.

Let Ghanaians assess both your suggestions and determine which of them lack basis, until then #DisbandPartyMilitiasNow.

And oh, do make sure you security capos are not lying to you.

The views expressed in this article are the personal opinions of the writer, Oswald Azumah and do not in any way or form represent those of Myjoyonline.com or the entire Multimedia Group where he is attached.