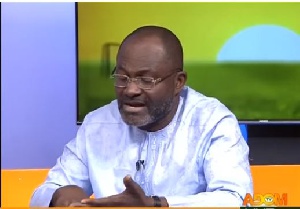 As a young boy growing up, I have been taught by my parents as well as other elders in my community to always respect elders and never exchange unpleasant words with an elderly person, be it a relative or not, and I took this advice upon myself and usually abided by it.
With all due respect and humility, I am writing this letter to express my thoughts to you Mr. Kennedy Agyapong , Mr. Ken there are many others including me who might have issues with the approaches Anas Aremeyaw Anas uses in exposing the ills in our society because we are humans and we are vulnerable to certain things especially when you are been exposed to them.

We are not saints devoid of sins. Many others will testify that only a few of us will actually pass if someone really prepares like Anas to set you up for something.

Mr. Kennedy Agyapong, I have heard a lot of your submissions on this issue of the approaches Anas uses to get those involved in the scandals and to me your submissions are genuine ones because I earlier on stated, we are all preys to these things including the very person doing this exposé, but mostly when you begin to question the ways of this investigative journalist Anas Aremeyaw Anas, others also begin to see you as a friend or a lover of corruption.

Mr. Kennedy Agyapong there are a lot of instances that you address issues on media that I including many others don't feel comfortable about because your approaches are always wrong. Few of them include the EC boss, our Presidents both past and present, IGP and even military and any time people want to talk about these issues you will claim to be fighting for Ghana.

Mr. Ken, the current issue of Anas using unfriendly means of exposing people has become your topic on the media and you go to the extent of even showing pictures and stuffs claiming to be the images of Anas as well as pictures of his properties.
This we don't know whether it's true or not. Mr. Kennedy Agyapong the fact that Mr. Anas is using approaches we feel are not friendly doesn't mean you should also be showing pictures and stuffs of his at your own interest and to me this is part of your wrong approaches to issues.

If we should be plain in our comparison as to the harm and benefits Anas is bringing to the nation, we will realize that the benefits outweighs the harm and moreover the harm is only for some few people while the benefits is for the whole nation.

In other words Mr. Anas is doing this in the interest of the public and not his own selfish interest. I beg of the first gentleman of this country and the security services to act on the best interest of the nation by calling Mr. Ken to order because if we all claim to be fighting ills of the country and someone is boldly doing it with some few shortcomings doesn't mean we should not support him, so I think these aforementioned should call Mr. Kennedy Agyapong to order and provide security to Mr. Anas and his family.

We will all testify to fact that for someone to be able to do these kind of works, that person has to stay unknown from the public, so if someone is also trying to expose this person who is trying day and night to expose the ills in our country, I think that person should be arrested and called to order because the person is fighting for his or her individualistic interest and not the interest of the nation.

Mr President, security services do something before things move out of hand. By the way those who know should tell us whether what Anas Aremeyaw Anas is doing is Right or wrong?
Suntaa Abudu Ibrahim..

Social commentator...