Opinions Sat, 25 Feb 2017
This week, two personalities made headlines regarding their position on whether or not officials of state are made to swear by shrines.
These persons only reaffirmed the long standing views of our people that leaders of our various countries are made to swear by smaller gods.

In the view of the veteran Nigerian actor Pete Edochie who paid a courtesy call on our former President JJ Rawlings, who himself an adherent of smaller gods, observed leaders of Africa must swear by smaller gods.

According to him, smaller gods mete out instant justice to persons who break their oath and that will serve as a deterrent to those who have made it their policy to squander state money. His view point is that God forgives easily that is why officials do not take their oath seriously whenever they hold the Bible to swear. He says the supreme God is so merciful.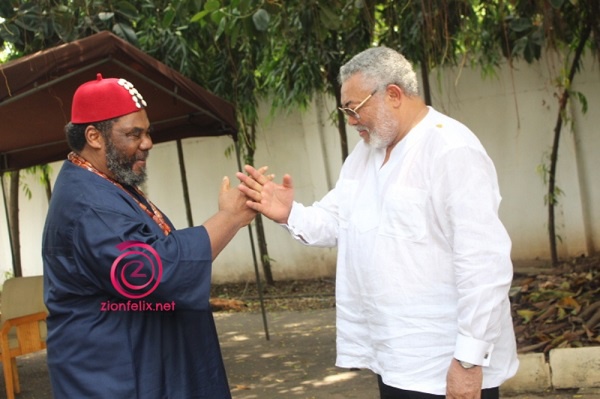 Also reading from myjoyonline.com, the flagbearer of the Convention Peoples Party in the 2016 election, Mr. Ivor Greenstreet seem to drink from the same pot with the Nigerian Veteran Actor that our leaders do not fear the stings of the Almighty God.
"It appears as though they have greater fear testifying in our local shrines as I don't think swearing on the Bible or Quran seems to put them in fear of telling the truth or otherwise."

His conviction is that the Joe Ghartey committee's work can only present the true fact if the various witnesses swear by shrines.

I was in my village over the weekend to attend a funeral. I took some time off to attend to personal activities. I met my Uncle's friend who was lamenting about the state of the economy . . . how he struggles to make ends meet. He told me he had a Taxi which was his only dependable source of livelihood but needed to dispose it off to keep his breath.

In other words, he needed to sell the car so as to use the proceeds to pacify a deity that his Ex-wife had summoned him over, to take his life. The Ex-wife had invoked the spirit of the powerful deity to kill him because he had gone in for another woman. The deity had already worked expeditiously on the concubine by killing her without any hesitation, so sensing danger, he sold his car in order to use the proceeds to placate the deity. He attributed his very existence to the appeasement of the gods.

The question is what will make this man sell his property in order to use the money to settle a smaller god to safeguard his life?
Better still what will make a lawyer and the Flagbearer of the Convention People's Party (CPP) in the 2016 elections to take such a position? Is it because he like many others has lost confidence in the political arrangement of the state?

Corruption has bathed our country and those clothed with the mandate to police the resources and protect the coffers are in most cases collaborators of the crime against the state.

Day-in-day-out there are stories of government officials busily inflating cost of projects, investing in properties outside the shores of our country and some police officers going on armed robbery spree.

About a year ago our country witnessed one of the scandals that shook the very foundation of our country . . . the judicial corruption where more than twenty High Court Judges were implicated. They have since been dismissed.

The seat of government about two years ago was ranked as the second most corrupt institution of state, according to a survey conducted by the Centre for Democratic Development (CDD).
Our constitution permits freedom of religion and as such enjoins any official of state who ought to be sworn in to decide which faith to proclaim. If nothing at all since 1993, all Presidents, Vice Presidents, Speakers of Parliaments, Chief Justices, Ministers of State, Members of Parliament among others either swear by the Bible or the Quran, yet some of these leaders are the very people who violate the constitution they swear to protect.

In all these scandals the citizens note our merciful God is waiting for the judgment day to strike whiles millions of Ghanaian children are wallowing in penury, watching those who have looted to enjoy their booty.

My independent opinion is that yes the constitution permits everybody and his family to worship the GOD of his choice, but when it comes taking an OATH, we must all be compelled to swear by a common entity, you may call it shrine. I am sure our Supreme God will understand that we give unto Ceaser what is Ceaser's and unto God what is God's because more than sixty years of development, we record scandals of government appointees disregarding the oath sworn and conniving with private citizens to create, loot and share.

It is my wish that we use this occasion of "Ghana 60years on" to consider the most lasting way to curb corruption, abuse of power and bribery.

That is the extent to which the Ghanaian and for that matter, the African can go to save his life. Many people have summoned their enemies to the Almighty to deal with them yet you don't see the fierce urgency of those supposed enemies asking GOD for forgiveness.
I think this matter calls for a national debate. Let's debate on this issue dispassionately and call on all the great men of GOD to come together to petition and pray to the Almighty God to allow us swear by the smaller gods for just ten years and see whether our country shall remain the same.