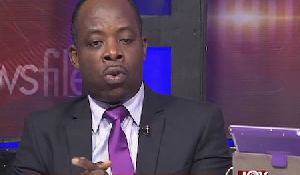 Political science is a social science which deals with systems of governance, and the analysis of political activities, political thoughts and political behaviour. It deals extensively with the theory and practice of politics which is commonly thought of as determining the distribution of power and resources- Wikipedia
In view of the above definition of political science, whenever a News Anchor introduces the next interviewee as a political science lecturer, I pay very close attention because I always see it as an opportunity to learn the academic angle to trending national issues

Unfortunately, after years of paying attention to our political science lecturers' contributions to the national discourse through the media, I have realized that majority of them don't go beyond what frontline politicians or other laymen say in response to the issues

About 80% of the times, I am left disappointed by the submissions of most of our political science lecturers when they are called to contribute to national issues with the lens of scientific political knowledge and expertise.

This is because most of them tend to analyse issue like disguised party supporters and end up making submission not far from hard-core party 'faithfuls' and absent of intellectual and scientific political substance.

Three days ago however, I was very impressed with the input of Dr Evans Darko, Political science lecturer of the University of Ghana when he was called by Peace FM to give his opinion on President Akufo Addo's public declaration of war against galamsey even if it will go against his re-election.
Dr Darko's analysis didn't just make sense but made meaning to the application of scientific political analysis in the National discourse. At least after the interview, I learnt where our president's decision fitted in the political science lexicon and I believe that is enough.

I know this is why they are often called to speak to national issues by the media

As an ardent news follower and a political animal, I look forward to hearing intellectually stimulating stuff from people who are introduced as political scientists.

Unfortunately, I am always left with analysis not far from Nii Amassah Namoale, Nana Akomea, Fred Agbenyo or Nana B.

Political science lecturers who only analyse political issues in the space of good and bad are not helping to develop the intellectual capacity of his listeners because if the interest is just about wrong or right, then an expert isn't needed because, in the context of good or bad, even the draft has a say. Unfortunately, this is what most of the political science lecturers have reduced themselves to in the minds of Ghanaians even though clearly they have the capacity to offer more.
We want to hear them analyse issues within the space of political science and the principles it teaches.

We have to know how consistent the governance approach of the NPP is to their ideology as a centre-right and liberal conservative party.

We have to know if NDC delivers as a government in line with their ideology as Socialist Democracy

People must learn how to associate with political parties by way of ideological positions and we can only get here if our experts bring their expertise to the table.

Unfortunately, in our part of the world, Political Scientists whose individual opinions and contributions are given extra attention speak to attract the attention of the very politicians who should be paying attention to them.
Everything is done for a pat on the back and that is why our political scientists are unable to apply most of the principles they teach during lectures when they are called to address the public on national issues

I believe it's high time our Doctors and Professors in the area of political science realise that they have a key role in shaping the thoughts of the people in politics. This should not only be limited to their students but it should reflect in their views and analysis of national issues.

We need to grow from ethnocentric and religious attachment to political parties to ideological attraction and this is only possible if those who understand it teaches those of us ready to learn.

Their competence has never been in doubt: they are only being corrupted by their political bias and I for one find it very worrying that academic brains are willing to sacrifice their credibility on the altar of politics. I pray this article finds one of them