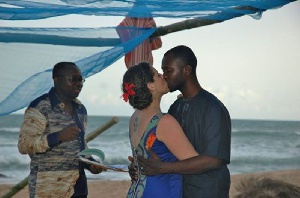 Becca and Charles first contacted me in February asking if I could officiate at their wedding - their Humanist wedding in April. The message arrived via facebook. Well, I was taken aback because It was the last thing I expected.

Here I was doing my field work in Ghana's northern region. I had no thoughts of attending any marriage ceremony let alone acting as the celebrant at a Humanist wedding. I had known Becca and Charles for a while. I had met them at the very first international conference of the Humanist Association of Ghana in 2012. I was aware that they were in a relationship but had no idea that they were planning a wedding and, least of all, that they would ask me to conduct it!


I just stared at their message for a while. I could not believe that an event like this could be taking place during my lifetime. I had to agree. I was excited, very excited that the Humanist movement in Africa was about to mark another milestone - the first ever Humanist wedding, at least to the best of my knowledge. And that I was to be a part of this history making event.


My field work in Ghana would end on April 30. The marriage was slated for April 12 in the town of Elimina in Ghana's Central region near Cape Coast. The timing was perfect! It was convenient, very convenient for me. Only one small problem I had never before conducted a marriage ceremony! So, it was going to be a first for me too. That made me nervous. Yes it did. It was a mixture of excitement and anxiety. As I say, I had no previous experience of officiating at a Humanist wedding. I was never trained as a Humanist celebrant. I have written articles on the need for such ceremonies in Africa so that Humanists who want to wed can do so in a way that reflects their own beliefs. But this was no longer theoretical. I had now been invited to officiate at one and the last thing I would would want to do is to let my friends down. My only ceremonial experience was as an altar boy and then as a seminarian. I had assisted priests during marriage ceremonies. But that was over 20 years ago. And those ceremonies were religious wedding rites conducted in churches with texts that the couples were not allowed to change. This time I would be conducting a non-religious Humanist ceremony, outdoors on a beach, with a text specially written to reflect the beliefs of the couple.


I contacted the ceremonies unit of the British Humanist Association and they sent me a sample outline text of a Humanist wedding ceremony. I also sent a message to the American Atheist Alliance and Herb Silverman sent me another text which I could adapt. Now there was the issue of legality. I am not a licensed celebrant. And, anyway Humanist marriages per se are not legal in Ghana. So we were confronted with a problem 'How do we have it legal and have it Humanist at the same time?'.


I contacted the Marriage Registry in Tamale then at Cape Coast. And they agreed to issue Becca and Charles with a marriage certificate. Once they had the certificate they could then go and celebrate the marriage however they wanted. It was great that the officials at the Registry were cooperating and making possible a legal, Humanist wedding.

So on Saturday April 12, 2014, history was made. The friends and families of Becca and Charles joined us for a Humanist wedding ceremony at Ko-Sa Beach Resort, facing the Atlantic Ocean. Officials from the Registry arrived and issued the marriage certificate for the couple and then we could hold the ceremony.


Becca is an American who has lived in a number of African countries; Uganda, Senegal, Ghana and now Nigeria. While Charles is a Ghanaian. He has lived in Togo Benin Ivory Coast, Botswana, Niger, and now Nigeria. So there were friends and family from the US, Ghana, Uganda, South Africa, Nigeria, Liberia etc.


Becca and Charles met in June 2012 at one of the events organised by what was eventually to become the Humanist Association of Ghana. Both share the general skepticism that goes with Humanist values. They have all 3 Abrahamic religions in their past. Becca comes from a Jewish family while Charles's background is Muslim-Christian. Two poems were read out during the ceremony. One was 'Gift from the Sea' by Ann Morrow Lindbergh, the other 'These I Can Promise' by Mark Twain. Becca and Charles exchanged vows and rings promising each other trust and abiding love.


As I stated during the ceremony, I wish our first Humanist couple 'a love that makes both of you better people, a love that continues to give you joy, hope and the energy to face the responsibilities of life'.