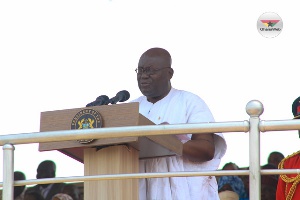 The immorality of the Invincible Forces and the Delta Force, resulting from their many egregious post-2016 vigilante acts of political violence and outright intimidation of Ghanaian citizens, exposes the rotten underbelly of the elephant, the New Patriotic Party (NPP), and the possible criminal makeup of its leadership, represented by Akufo-Addo, the shady character mask behind the All-Die-Be-Die Yen Akanfuo, a war mantra borne out of his peculiar conception of ethnic exceptionalism.
In his infamous plagiarized inaugural speech Akufo-Addo made the following grandiose promises:

"We have an exuberant and young, growing population that wants the best of what the world has to offer and will not settle for 'Third World' or 'developing world' standards…

"Our judiciary must inspire confidence in the citizens, so we can see the courts as the ultimate arbiters when disputes arise, as they would.

"A Ghanaian judge must be a reassuring presence and the epitome of fairness…We must restore integrity in public life….

"I will speak for greater justice as well as compassion, and I will call for responsibility and I will live it, as well…

"…The rule of law will be the underlying tenets of our lives; and the law will be applicable to all of us, and not just some."

Thus far Akufo-Addo and his government have not lived up to any of these flamboyant promises. Rather what he and his obese government have in fact succeeded in doing in the past three months, is merely reinforcing the culture of impunity and the politics of equalization and the climate of fear, all of which defined the politics of the previous administration, and of course all three of which are also nothing to write home about as far as we can tell.

On the other hand let's quickly add that, the fact that this important speech contained undisguised stolen parts sown into a highly readable text of political and moral deception, itself betrays the moral and intellectual bankruptcy of the nation and its new crop of Trumpian leadership.

This new government, it appears, has already started demonstrating the intrinsic or embryonic failure of all the previous governments of the Fourth Republic, replicating the political and moral weaknesses of those erstwhile regimes in absolute exactitude—if not more.

Not that we want this new government to fail—far from it. Of course we do want to see it succeed by all standards, and not by replicating the same mistakes it criticized the previous administration of. The latter charge, once again, is exactly what this new administration has been repeating.

Perhaps our failure as a nation is because we have had a generation of leaders that only thrives on false consciousness, the overwhelming prestige and privileges and prerogatives associated with the high office, and uncritical automaticity.

The political symptomatology of uncritical automaticity, false consciousness, and the overwhelming prestige and privileges and prerogatives associated with the high office makes it possible for these leaders to forget the promise they make to the people.

Then again Akufo-Addo's rhetorical grandiosity on the day he was inaugurated, which among others included his remarkable reference tasking the Ghanaian jurist to inspire a presence of fairness and equity, was a tongue-in-speech figure of speech.

He was and still must be fully aware of the rotten operational innards of the judiciary.
Akufo-Addo was an integral ingredient of the judiciary, a very corrupt arm of the national government, and for him to speak about the judiciary in a flattery language as a spectator rather than an insider is the height of hypocrisy.

So far he has not spoken out strongly against the frivolous fines slapped on the Delta Force suspects, who allegedly stormed the Kumasi Circuit Court, freed their colleagues on trial, vandalized court properties, and nearly lynched the sitting judge but for the timely intervention of the security detail posted there.

Granted, it is still possible these frivolous fines directly resulted from the fact the judge sitting on the case, Judge Ekow Mensah may have been afraid of his life if he did otherwise, that is if he was not lenient with those dangerous political terrorists. There are, of course, those who will argue that Akufo-Addo has no jurisdiction in this matter and therefore his personal intervention in it will have amounted to undermining the sanctity of judicial independence. Yet this may already have happened given the absolute lack of judicial independence in the Ghanaian body politic, as far as pressing issues of great national concern, primarily those ones which eventually end up in the courts, are concerned.

And then we also have a staunch supporter of Akufo-Addo, hip-life artiste and comedian A Plus, who made scandalous news this week when he reportedly threatened Ghanaian judges and called them "fucking cowards."

As if that were not enough, the NPP's National Organizer John Boadu also came out with his own scandalous version of events regarding the fate of the vigilante groups under the party's watch and sponsorship. He was reported to have said the party will not dismantle any vigilante group unless it does something illegal.

The NPP has become the law of the land. This is what Boadu seems to be saying. Again, here is what the likes of Boadu and his boss Akufo-Addo seem to have forgotten:

"The 1992 Constitution of Ghana, which is the supreme law of the land, stipulates in Articles 200 (2) and 210 (2) that no person or authority shall raise any private army, police force or militia except by or on the authority of an Act of Parliament."

Finally, Information Minister Mustapha Abdul-Hamid, another comical member of this soap-opera political cast, perfectly acted out his part so well, the denouement of this political script of outrageous statements, when he endorsed another shameful act of national mediocrity, the sidesplitting chatterbox and political cartoon Kennedy Agyapong, over the latter's alleged appealing personality and what this means in terms of gluing the party's grassroots to the highest echelons of power.

It is extremely difficult, almost impossible, to take a stance arguing that these seemingly disparate statements, commentaries, and communiqués from these appointees do not have the sanctioning authority or approval from the president himself. They certainly do, and must.

The terrible, objectionable experience of his plagiarized speech demands proaction on his part and prior approval of indispensable policy statements carried in behalf of a government of which he remains its quintessential authoritative headship.

Unless, of course, he does not care and he is sleeping on the job. Irresponsible statements and their bad timing of delivery from government officials have been known to bring down many a government.

At the end of the day, one still have to wonder why Akufo-Addo's political appointees are sowing seeds of informational conflicts in the hearts and minds of Ghanaians about this vigilante controversies, while, Akufo-Addo himself, the man at the center of it all keeps saying something else.

Perhaps, this kind of political communication is part of the overall zero-sum game this administration is playing with slumberous and comatose Ghanaians.

But who is to blame Abdul-Hamid when his boss is even "afraid" of Kennedy Agyapong. Listen to Akufo-Addo:
"Using the structures of the party to deal with the problems of the party is what we have to do. So I am asking everybody to respect that even senior members of the party like the redoubtable Kennedy Agyapong, I am pleading with him…"

On the contrary, here was how one Madam Angela D. Aboagye, the Executive Director of the Ark Foundation, described the attention-seeking publicity stunt of a psittacine chatterbox:

"This person [Kennedy Agyapong] is supposed to be an honorable MP and consistently he comes up with statements, rantings and ravings that make us question how he got there in the first place…"

FOOD FOR THOUGHT: SOME CRITICAL PERSPECTIVES

One wonders why the Bureau of National Investigations (BNI) and the Criminal Investigations Department (CID) are not investigating these politically affiliated vigilante groups and their potential supporters, including thoroughly investigating whether Akufo-Addo is not only the Commander-In-Chief of Ghana but of this these vigilante groups as well, and to what extent Kennedy Agyapong and Chairman Wontumi—in particular—have been involved with these groups.

Among other things, we will like to know if Akufo-Addo is not a closet Trumpian terrorist attired in sheep-in-wolf's-clothing political theology and the essentialist moralizing language of ethnic exceptionalism.

Is Akufo-Addo a political terrorist? Is it possible that Akufo-Addo is nursing domestic terrorism in Ghana?

We leave the BNI and the CID to answer this multi-billion-dollar question, even while we will not gloss over the fact of Akufo-Addo and the leadership of the NPP importing Serbian and South African mercenaries into the country to train these political terrorists who now make-up the Invincible Forces and the Delta Force, primarily, and Madam Akua Donkor's bold statement to the effect that Akufo-Addo was more dangerous than the two Guantanamo Bay detainees currently under Ghana's custodial protection.

What is more, the investigation should be wide enough to cover the political dispensations of the National Democratic Congress (NDC)—as acts of political criminality are not unique to the NPP.

Or else we should commission an independent body to look into this matter.

CLOSING REMARKS

"A fish rots from the head down indeed," so the elders say.

An insider source tells this author that the Invincible Forces and the Delta Force have been resourceful as reservoirs of personal guards for Akufo-Addo in particular. They have also protected the physical assets of the NPP among other valuable services. Nevertheless, none of these services is outside the domain of public knowledge.

Who has been paying or remunerating these criminal hoodlums for their services? Only Kennedy Agyapong?
Who else have been paying or remunerating these criminal hoodlums?

If Akufo-Addo did not directly pay these criminal hoodlums then he must surely have wondered or questioned how they came about and maintained their hulky physiques, clothed themselves, paid their bills, fed themselves and their families.

What is rather distressing for us is that our call for an independent investigation into the origination theories of these vigilante groups, even if carried out, will most probably amount to nothing.

Like his immediate predecessors, Akufo-Addo will not be gung-ho about his government initiating any investigation into this matter with enormous implications for our national security and social-political stability.

In fact, he may not even be aware that his actions and inactions are laying the groundwork for a potential civil conflict.

Nor does he appear to see any element of moral equivalence between Mahama's controversial pardoning of Montie 3 and the frivolous manner with which the judiciary is handling the Delta Force unlawful storming of the Kumasi Circuit Court!

Under the leadership of pseudo-democrat and anti-constitutionalist Akufo-Addo, the purported political individuation of the NPP has more than assumed the likeness of its archenemy, the NDC.

The elephant NPP under Akufo-Addo's leadership is indeed, a sleeping giant! Here comes the elephant in the room…

Moreover, we have seen how the arrogance of power, culture of impunity, coercive power, institutional corruption, executive dominance, post-truth politics and alternative facts, and politics of equalization are destroying our beloved country.

In addition, our political leaders continue to bury clamoring calls for social justice, fairness and equity in the coffins of intemperate political communication, in medieval and communist tactics.

What is rather certain, when all is said and done, is that if those criminal hoodlums had stormed the Flagstaff House and attempted lynching Akufo-Addo we would be dealing with a high-profile case of subversion and treason. In such sensitive matters the life, person, and safety of any Ghanaian including judges is just as important as those of the president. This is not what the frivolous fines are telling us. Instead, it is telling us that the life, person, and safety of Ghanaians including judges are not that important, compared to the presidents. This is a condemnable precedent.

This is not what Akufo-Addo's plagiarized speech promised Ghanaians.

Unfortunately, the location of the dastardly criminal act was village champion Chairman Wontumi's highly charged partisan cottage.

Our leaders sleep on the job while military-grade arms, assault rifles, and cache of sophisticated weaponry proliferate across the length and breadth of the country.
This is largely Eurocentric Africa!

Now, listen to writer Dayo Olopade:

"But the West's adulation of Ms. Johnson Sirleaf seems to persist without any consideration as to whether she upholds liberal democratic values. Likewise, the gap between Liberians' perception of Ms. Johnson Sirleaf and her international reputation is rarely given a fair hearing.

"Indeed, Ms. Johnson Sirleaf's global stature has risen based not on credibility with her people but on endorsements from international institutions like Harvard, Citibank and the World Bank and figures like George Soros, Bono and Warren Buffett.

"For citizens from France to South Korea to the United States stunned by ethical and functional lapses in their political establishment, one instinct is to take to the streets to pressure those in power. Another is to wait for an election and vote for new leadership…"

Dear Readers, simply replace "Ms. Johnson Sirleaf" with "African leaders" and our story is complete!

REFERENCES

Myjoyonline.com. "Full-Text: President Akufo-Addo's Inaugural Speech." January 7, 2017.

Ghanaweb. "A Plus Threatens Judges." April 13, 2017.

Dayo Olopade. "Stop Treating Liberia's President Like a Hero. She's a Human." April 12, 2017. The New York Times.