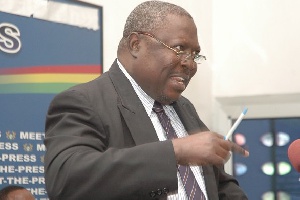 "Never make a politician grant you a favor; they will always want to control you forever" (Bob Marley, "Revolution").
What we expect of Martin Amidu as a potential Special Prosecutor

Of course we will be extremely elated if Martin Amidu should get assigned to a portfolio in the incoming Akufo-Addo government, say a Special Prosecutor, Independent Prosecutor, or Independent Counsel, a portfolio we expect him to use to vigorously fight institutional corruption, social injustice, crony capitalism, nepotism and other egregious political sins committed in high places and the corridors of power, political sins in all their diverse manifestations irrespective of his philosophical loyalties, political ideology and partisan colors.

Regardless, we will also hope this proposed portfolio should not be contingent upon Amidu's keeping quiet over or turning a blind eye to the past political misdeeds, malfeasances, and deep kleptocratic sins of the Kufuor government and to those potential ones yet to be committed during the incoming government, of which he [Amidu] is more than likely to be considered for a sensitive portfolio.

Thus, his credibility and integrity are at stake here in this complex equation of unforeseeable political calculation.

If this assigned portfolio does come into consummate fruition as we hope it should, then he must capitalize on every opportunity that comes his way through this special office, to prudently summon up the creative momentum of political clout and capital, by, among other things, translating this creative momentum into a gesture of goodwill in the political fight and moral crusade yet to be waged against institutional corruption and impunity in the Ghanaian body politic.

In accordance with his dignified carriage and high sense of professional independence therefore, Amidu should not make himself necessarily beholden, or for that matter entertain any creeping sense of indebtedness, to his political patrons in the New Patriotic Party (NPP).

Then also, at the end of the day if he should be considered for any position at all and he dare accept it both upon careful assessment of the scope of duty which pertains to this particular political office, which we strongly believe he is already in the know, and rational introspection, the decision he finally makes in regard to this political office must be based on meritocracy, his hard work, integrity and credibility, patriotism, inflexible distaste for and open crusade against institutional corruption and social injustice.

Put simply, he must accept this proposed political office not in the interest of the NPP and its leadership but rather in behalf of Ghana, his beloved country of birth. Following his formal acceptance of this sensitive portfolio, Amidu must quickly re-open all the cases of institutional corruption that took place during the Kufuor era, while also revisiting those ones committed by the shameless, bold corruptocrats under President Mahama's watch.

In the supreme interest of the nation therefore, Amidu must ensure that the courts deal ruthlessly with those found to have run afoul of the law and the public trust. If it is possible for us to set aside all the major components of the legal concept of "peremptory pleas"—the plea of pardon, autrefois acquit, and autrefois convict ("double jeopardy")—so as to guarantee proper and thorough investigation which in turn leads to effective prosecution of these cases, then so be it.

Certain times, we strongly believe also, although our position is a controversial one, the law must be set aside for the proper thing to take its natural course in our body politic in order to safeguard the public purse, safety, and interest.
Too much undue political interferences and patronage have weakened our institutions—the judiciary being the primary one—even turning murderous political criminals and thieves into national celebrities, angels, saints and as well diabolical, egregious philanthropists.

After all we all are probably aware of the open secret, in which a number of murderous political criminals, thieves, and gangs from the erstwhile Kufuor administration, were let loose by our incompetent and corrupt Ghanaian courts and by the morally, ethically lazy, sleeping and non-proactive Mills, which should not have been the case from everything we know about some of these old cases that went cold.

We cannot and should not let loose these high-class, first-order kleptocratic rapists of the public treasury.

The shameful legacies of the elitist corruptocratic emperor Kufuor and of the down-to-earth corruptocratic empress, Mahama, leave a lot to be desired.

All the more reason for Amidu to fight for Ghana not in behalf of the NDC or the NPP, per se, but rather in behalf of Ghanaians and his own conscience, as the national interest and Ghana are bigger than any single political party in the country today.

But, most significantly, Amidu must first understand that the NPP is made up of very competent, professional thieves while the NDC, his alleged party, on the other hand is composed of competent, unprofessional thieves.

Both parties are enemies of the state, of the people. So he should make good use of this golden opportunity, if it does come his way, to expose these reprobate and recidivating political thieves for what it's worth.

Finally, we will plead with him to use his influence to sanitize Ghanaian jurisprudence because the latter is a big joke.

Ghanaian jurisprudence is a disgrace to the dignity of the national conscience—a platform where "parody of justice" defines the moral and ethical character of what should have been empirical justice.

For that matter, Ghanaian jurisprudence and statutory construction involving pertinent issues of the public trust tend to favor extreme partisan politics, political patronage, abuse of incumbency, unpatriotism, and arrogance of power than intellectual, scientific and philosophical allegiance to legal theory and practice.
In other words, Ghanaians jurisprudence lacks the moral and ethical seriousness of an institution worthy of the public trust and respect.

Food For Thought

A number of important questions have been raised about the potential candidacy of Amidu for the Office of a Special Prosecutor. These questions have ranged from trust issues to cabinet solidarity. Most significantly, these are legitimate questions whose potential answers and assumptions should greatly concern the leadership of the NPP and the party's grassroots following.

But then also the entire landscape of criticisms boils down to where exactly Amidu's political and ideological loyalties lie, whether they lie with the neoliberalism or property-owning democracy of the NPP or with the democratic socialism of the NDC. Ghanaian politics has absolutely nothing to do with neoliberalism or democratic socialism but everything to do with kleptocratic boobocracy. So we had better dispense with this aspect of the reservations highly critical of Amidu.

Regardless, we can think of the incoming government decoupling the Ministry of Justice from the Office of the Attorney General and where Special Prosecutor Amidu enters the political picture as America's Ken Starr, the legendary Democrat-turned-Republican Independent Counsel who went after Bill Clinton in the wake of the mysterious death of White House Counsel Vincent Forster and Clinton's extra marital affairs with Monica Lewinsky.

Starr's late-1900s investigations into these matters would come to haunt the Clintons forever, seriously denting the credibility of Bill Clinton and even eventually playing an important role in Donald Trump's defeat of Hillary Clinton. A number of Americans who voted for Trump believed Bill Clinton had a hand in Forster's suicide death.

Beyond these basic facts, we will also like to add that crossing the floor ("carpet-crossing") follows a normal or routine political calculation in democratic practice although what we have in Ghana is not technically what anyone in his or her right mind will ever call "democracy."

Thus Amidu has every right to defect from the NDC and join the NPP for that matter. That is a personal choice for him to make. After all this is what political mavericks are known for. Those who are therefore raising questions about his ideological loyalty may also want to question how Kwesi Nduom, Freddie Blay, and Kweku Baako, Jr. ended up transferring their loyalties to Kufuor and the NPP.

Perhaps the pressing issue now for his critics borders on how he, as a likely lone wolf, can survive these NPP political sharks and wolves whose property-owning democracy is synonymous with kleptocracy and institutional corruption.

Amidu is therefore the quintessential internal "checks and balances" the NPP needs in its proposed moral and political arsenals against institutional corruption. Perhaps, if the NDC under Mills and Mahama had had Amidu aboard Ghana would have made pronounced headway in the fight against institutional corruption.
We make this bold claim with support from the calculating lens of hindsight, neither are we claiming Amidu is a strategic panacea to institutional corruption, widespread poverty, and the nation's arrested development. What we are rather implying is that he cannot, for all intents and purposes, do it alone and on this basis will require the active, unflinching support of all Ghanaians and the country's institutions.

Granted, if the leadership of the NPP truly wants to measure or live up to its martial anti-corruption electioneering and sloganeering rhetoric, then it must walk the talk by including Amidu in the cabinet of the incoming government since his pre-election anti-corruption crusade and rhetoric resonated with the electorate, eventually contributing to the crushing defeat of the NDC.

It is however equally likely that his pre-election anti-corruption campaign may have genuinely originated from the depths of personal conviction, while it could also be true that the scheming leadership of the NPP arranged with him to ratchet up his anti-corruption rhetoric in exchange for portfolio should the Mahama presidency fall.

It will therefore mean that the leadership of the NPP successfully used a political pariah to execute its major goal of throwing out the Mahama presidency. If this was indeed the arrangement then it surely raises a number of red flags, including questions of credibility, integrity, vindictive opportunism and greed, and finally, of acts of betrayal. However, lack of insider details on this theoretical arrangement means that we will have to wait on the verdict of time.



In fine, we will expect Amidu to act as a moral chaperone within the NPP camp, a view much in keeping with the substance of this essay. Stated otherwise, we should expect Amidu to represent the moral voice and conscience against corruption within the NPP itself, primarily, and without, remembering that institutional corruption has no political colors.

Unless of course, he gets the political sharks and wolves in the NPP to corrupt him by applying undue peer pressure. However, we should note that this is the first time that Alufo-Addo for once has given us the strongest signal yet that he is going to suspend his nepotistic and cronyistic abuse of the instruments of state power and of state institutions to advance his personal interests, a strategic situation we hope Amidu will take advantage of not to settle old scores but to serve the interest of the nation.

Amidu, finally, must be given to understand that the scheming Akufo-Addo may be capitalizing on his nomination to give a false sense of political inclusion. He must therefore protect his independence, if this is indeed possible, from the infectious corruption of partisan politics and personal greed. We hope his nomination is a genuine commitment on the part of the Akufo-Addo government and not a payback—a quid pro quo—for the "work" Amidu did for Akufo-Addo and the NPP during the 2016 electioneering campaigns.

If and when Amidu eventually wins the Special Prosecutor slot, which we hope he will unopposed, then Akufo-Addo can finally wash his hands of the "witch-hunt" and "witch-hunting" labels.

CONCLUDING REMARKS
Martin Amidu as a Special Prosecutor should understand that there are influential NPP sympathizers who also benefitted from the corrupt practices chalked under the Mahama administration, men and women who may have financially and logistically contributed to Akufo-Addo's landslide electoral vanquishing of the NDC.

These shady characters, political sharks and wolves we shall call them, could also turn out to be influential insider political players in the incoming government and may not want the Mahama administration exposed further for fear of being put in the cross hairs of "collateral damage" or "bycatch."

In the end Amidu will have to reopen the Abacha-Rawlings scandalous "bribery" controversy, and those scandalous controversies that have dogged Akufo-Addo. He should as a matter of course, use all the power and prerogatives of the Special Prosecutor Office to investigate Akufo-Addo when he was the substantive Attorney General, Minister of justice, and Minister of Foreign Affairs.

This will be good for Akufo-Addo, for the country, and for his presidency. The basic underlying principle here is bringing a lasting closure to these unresolved controversies. We need these investigational and prosecutorial closures in order to bury the political hatchet for good.

We shall return…

REFERENCES

Kwarteng, F. (2017). Special Prosecutor Martin Amidu Will Swim In A Sea Of Political Sharks! Retrieved from https://www.modernghana.com/news/746335/special-prosecutor-martin-amidu-will-swim-in-a-sea-of-politi.html