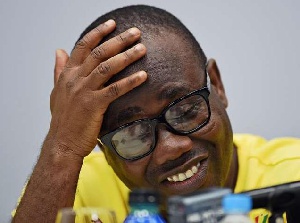 The head of Ghana FA, Mr. Kwesi Nyantakyi, has every right to attempt to justify his accomplishments in football all he wants.
Likewise, he can throw out childish debate challenge to the so-called "deadliest sports journalists" in Ghana to prove the extent of his debating skills all he wants, too.

More so, he can cynically display his PR antics and manipulates his way through his timid soccer executives all he wants; but the fact still remains that Mr. Nyantakyi and his present GFA cronies are badly inept soccer administrators or innovators.

The sad thing about it all is that he strongly believes he is so competent that he will never step down nobly unless the combined forces of millions of disenchanted Ghanaian soccer fans push him out of office before he keeps causing more damage.

Admittedly, Mr. Kwesi Nyantakyi may be good at managing many other organisations, but out-of-the-box-thinking soccer management and development are not some of them. The prevailing mediocre state of Ghana football—especially at the local level—that is not getting any better under this failing GFA leadership, undergirds our case here.

Considered one of the few soccer powerhouses in Africa, Ghana has seen its local football exploits crumbled from within under the full glare of Nyantakyi and his minions for the past decade. Regardless of the falling standards of Ghana soccer, the one-sided cheerleaders and some other Ghanaians continue to live in alternative reality world of Mr. Nyantakyi's egoistic capers.
It is extremely hard to reason substantively with Nyantakyi-led GFA and its partisan supporters, because they're deeply aground in glittering extrapolations of facts. Among others, they point out that under Mr. Nyantakyi's watch there is an upswing regarding the competitiveness of the nation local league system.

For them, as long as Ghana's tacky local football league has produced about four different league champions recently other than the two traditional winners—Hearts of Oak and Asante Kotoko—that development alone underscores Mr. Nyantakyi's matchless achievements as GFA head.

What this non-holistic line of reasoning ignores is that although the nation's premier league has had different winners like Ashanti Gold, Berekum Chelsea, Aduana Stars, and Wa All Stars during Nyantakyi's tenure, still the standards of the country's football is in decline, to say the least.

We are not suggesting that Ghana's league system shouldn't produce a variety of winners to promote keen competition. However, based on many accounts from people more familiar with Ghana soccer history, the competitive nature and the quality of footballing between Kotoko and Hearts of Oak in the past were relatively high compared to what is happening in the recent years. So, Mr. Nyantakyi has not much to brag about on this front.

Nowadays those local teams representing Ghana in the CAF Champions League usually do not go far in the competition, a phenomenon which is reflective of the poor organisation of the local leagues and lack of serious youth soccer development, at least, from the high school level.
Ghana can learn some sports lessons from the United States. Their children start playing competitive basketball or American football at the middle school all the way until they're drafted into the big leagues or become professional players.

Right before playing pro-football, too, the National Football League has vigorous pre-orientation program called Rookie Transition Program that helps the new recruits adjust into their football careers.

And please, don't ignorantly dismiss this suggestion by just saying that America is not Ghana, because majority of Ghanaians today who have not even travelled to the U.S. before are over-copying many of the lifestyles of Americans, including other Western cultures! So, there is no difference if we make some comparison here.

Plus, since he wants to cling tight to GFA leadership at all cost, it will serve Mr. Nyantakyi good to learn how to accept criticisms without ascribing malice to them. GFA is a Ghana-owned entity; so, all its officials must step out of their empty arrogance bubble space.

Mr. Nyantakyi loves to brag about his accomplishments, often with a disproportionate focus on the Black Stars' three times appearance at the World Cup tournament. Yet hardly does he tell Ghanaians how his GFA is developing the country's football at the basic levels to serve as the breeding grounds for the unimpeded supply of the future soccer stars for the national teams.
For the past 35 years, Ghana has not won the Cup that contributed greatly to making it one of the forces to reckon with in Africa soccer. The country has hosted AFCON three times—1963, 1978, and 2008. Out of the three Ghana hosted, it won the first two events except the last one in 2008; and guess who that head of the GFA was in 2008? It was Mr. Kwesi Nyantakyi, and still is.

The guy still doesn't get it that mainly in sports or soccer, success is about talents development and winning the championship trophy/gold. It is not about mere participation or in the Black Stars' case, exiting at the group stage in Egypt 2006; receiving the bronze medal as host nation in 2008; running second to Egypt in Angola in 2010; coming 4th place in 2012 and 2013; losing on penalty shootouts to Ivory Coast in 2015; and placing 4th in Gabon in the latest AFCON. These are not successes in soccer business unless one's expectations are within the margins of mediocrity.

Ghana FA today is crying for leaders with innovative ideas in the calibers of Ohene Djans, H.P. Nyameteis, and other Ghanaian soccer visionaries as opposed to the current president whose main goal appears to be finding ways to break into the ranks of either CAF or FIFA leadership.

In fact there are many unproductive developments, such as the dysfunctional Sponsorship and Marketing Committee, as well as the Disciplinary, Appeals, and Review bodies under this corrupt GFA that need critical re-appraisal but for space constraints.

By the way, I don't know what he means, but if Mr. Nyantakyi still insists on having some "deadliest media sports" writers/commentators to debate with, I will volunteer to face him in a public forum opened to all Ghanaian taxpayers. His soccer management sucks; and, the Ghana media must hold his feet to the fire and not be intimidated by his clumsy threats.
The writer is United States-based social critic; he can be reached: b.asubonteng@gmail.com