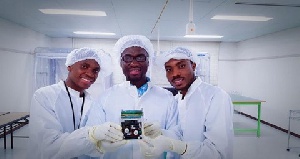 It's not that I find it as all that glitters is gold or that whatever means it's the end that matters. It's that I am impressed.
I wish I knew the full details of what and how it happened because we haven't had much luck of being indigenous and not just tangentially tagging onto someone's else's feat.

It began the dream of all the great people who have cared about this motherland; the dream that the limit is beyond the sky and that we as capable of anyone else in realising it.

We have been training engineers and scientists for donkey years. We have had established a university dedicated to science and technology which today produces business and law majors.

We founded another one which was to produce for the scientific cause specialist science teachers. Today, that one produces doctors and lawyers and specialists in commerce.

Where we have directed the public purse towards generating brain and hand power, you can hardly find the application of alternative renewable energy beyond hydro and thermal sources.

I understand in an African university like the one in Nairobi, every bungalow has at least one solar panel. Go to the guest house of the engineering programme our leading (perhaps sole) trainer of our scientists and technologies.
There is no solar, no hydro, no biogas energy resource to show the rest of us how to do it.

Of the 10 public universities or so, at least a third are solely dedicated to science and technology. Yes, the primary function of a university is to train the mind; sharpen the critical thinking powers of their products.

In the midst of dums? and galamsey menace, we are helpless when all the money we are spending on our universities should have helped with some redemption.

Universities are dedicated to development; energy, mines, science, technology, health and other areas of life and living.

In spite of the fact that the ground breaking innovation and invention have radically eluded us, overnight, technical universities have been commissioned.

It is as if the word university replacing polytechnic will push them to technologically innovate.
Contrast that to the privately funded universities. The one you view or from which you view, in or of a valley, seem to be practising all kinds of renewable energy strategies the public universities could learn from.

It has converted the yet to be built on land into orchards where fruits are grown, as they wait to construct structures on those parts.

The public universities would rather watch their unused lands lie idle with much of it farmed by individuals without institutional benefits from the proceeds.

And now all nations showing they are an amalgam of all nations; indolent ones and hardworking ones. They have just succeeded in pushing the motherland into the comity of satellite owners.

After years of Kuntunse stalling and parasiting what others have launched, the motherland has an orbiting object beyond the skies with her name inscribed on it.

They deserve commendation as the first citizen has already extended to them. They are of the All Nations Full Gospel Church, Toronto, Canada. I wish I knew what that is about. That would have helped me say more.
For now for whatever reason, the end, in as far as the satellite launch is concerned has uplifted the image of schooling in the motherland. Those looking for reasons why schooling is good have something to point at.

I wouldn't be surprised if the satellite launch achievement becomes a major selling point for marketing for increased enrolment. Those who were painting heads on buses to sell election a candidate could learn from developing an innovative and productive satellite launch brand to sell a university and its programmes.

The traditional public Legons may have contributed in many ways to the motherland's peace, security and good reputation. Their products have made and unmade the motherland. It might be too early to heap praises on All Nations University.

For its singular satellite launch, though, all must hail All Nations University. May the institution flourish in cultural regeneration of technologically utilising the indigenous in its endeavours at innovation.

In that, the motherland would find a development enhancing technological transformation.

The unpleasant truth is that, for as long as we want to practise ballot box democracy, we would continue to have professional politicians.
And for as long as we have professional politicians, political thieves will find a way of operating falsely as professional politicians. The political thieves are too many in congress to deal with effectively.

But we can work hard to expose those of them among ?sonomma. Otherwise if they should succeed in taking over ?sonomma like they dominate congress, that will be the end of the motherland ever having an opportunity to develop.