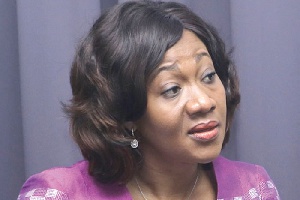 Dear Madam Jean Mensa,
I pray this letter finds you well. On behalf of the people of Oti region most especially the Akpafu Odomi, we wish you good tidings in this season of Christ our Lord.

In the year 2019 by this time, our wish for you is to be a good student who must be willing to learn from your predecessors like Dr Afari Gyan. I fear at the mention of Mrs Charlotte Osei's name, you may end up throwing this letter away so let me keep her name under wraps. Women they say are their own enemies so you may not be willing to go to that wise ant of a woman to learn despite her success in that seat you occupied today. She equally has her flaws one of them been failure to cooperate with Madam Amanqua her deputy and that landed her in a ditch.

Anyway, this letter has become very necessary taking into consideration the just ended referenda that was characterised by day light "robbery" by men without arms while security men with arms looked on like "zombies" because it 'was planned and must be executed'.

I remember vividly working with the EC in one of the districts in 2012 (Agotime Ziope district to be precise) and to be honest with you, the pressure the District boss (returning officer) will give you coupled with the fear he instils in all the workers, reminding us of the laws that govern elections and the repercussions of committing mistakes, madam, we dare not fail the electoral process. A gentleman and very hardworking subordinate of your office and a man one can best describe as diligent.

He reminds all workers whether temporary or permanent staff, of the laws, regulations and jail sentence that awaits election malpractice which keeps echoing in our ears before we even depart to work. (I don't have his permission to mention his name but you may want to check which of the officers worked at Kpetoe in 2012).

One would wonder why he kept reminding us to uphold the ethics of the Commission. He knows what happens in other countries when elections are unfair and marred with violence. He's learnt, practiced and become experienced in his field. If such a person becomes head of a revered institution like EC one day, we can all cast our ballots and go to sleep while awaiting his sorting, counting and declaration of results. In that sense, we all have confidence in the electoral process and the Commission at large.

It's always proper for organizations to look within itself first when looking for capable men and women to man leadership positions but boards and decision makers defy odds and bring in strange faces like yours due to allegiance or for some reasons best known to them, from which things may go up or downhill.

Madam Mensa, sincerely, I personally don't doubt your capabilities but for me to be complacent will simply mean I've joined in signing Ghana's "war" agreement between NDC and NPP in 2020. Sorry I won't be a party to that. I came to meet Ghana in a peaceful state as a child and I must maintain its peace till my exit on earth to allow my children equally benefit from this fruitful land in peace.

I've seen on television happenings in Congo, Rwanda Ivory Coast etc. To be convinced enough I got closer to Togo border "just afiya ko" and what's happening there is just unbearable. Situations that leave children, mothers and capable men maimed and killed like fowls whether it be as a result of elections or not, my prayer remains one "may such inhuman behaviour never finds it's way to Ghana".

For a referendum been your first test, both political parties have agreed to greed hence none will take you to court like Nana Addo contested the 2012 elections at the apex court, and chiefly among his petition was failure of presiding officer to sign pink sheets after declaration among others.

Hope you saw and experienced the tension yourself at the time?

Madam i know you know after the over one year court experience which brought the popular "you and I were not there" mantra, the two parties who were major stakeholders in the landmark case are not ready to take their matters to court. That I can assure you. This is because they are ready to "battle" it out on the field and this is what you gather when interacting with them. Just as Afari Gyan always says "elections are won at the polling stations" so you can imagine if these workers who just assisted you in fraud are the same to work for mother Ghana come 2020 and many more to come, hopefully, then we are good as dead.

Very unfortunate for we the average people, poor and vulnerable who can't afford plane ticket to even Togo, then where lie our fate!
Let me now tell you what I saw in Oti region.

I reported in that enclave on Wednesday 26th December 2018, a day before the referendum. I combed through the towns and even reported on some platforms how peaceful the Dambai Township was, as well as other towns and villages along the stretch from Hohoe to Dambai.

Very peaceful as though nothing was billed to happen the following day. The joy that usually greets the face of an expectant mother and father wanting a baby was intrinsic and not visible for one to see as everyone busied themselves with work for daily bread.

On board the bus, I regretted taking the decision to go there when I experienced a very terrible "bone shake" due to the bad road from Hohoe but when that lap of road was completed in some 40 minutes, the disappointment vanished because the road been the basis for division was good throughout my journey from Jasikan to Dambai. Let it be on record that, there is no village in Ghana without bad roads so if village roads in that enclave are considered deplorable hence regions must be divided...let me leave that political beneficiaries. I'm not saying government shouldn't commit resources to rehabilitating roads leading to our villages. No!

I was joined by some colleagues who came to meet me at the bank of the River Oti which by virtue of time I will write about in another piece. We witnessed the trooping in of security officers from all the services ranging from military to fire service. So I asked myself, if the men in uniform are always not enough taking into consideration the security/ civilian ratio in Ghana/Volta Region, how come this huge numbers? According to the Volta regional police commander, they numbed over a 1000? So who protects the vulnerable in the southern part of the region in case of any attacks? Well, who am I to complain and to whom?!

Our arrival and activities on the ground indeed sent a clear signal that the security men who were assigned to ensure peace in the area were not there for peace after all. It looked like they were there to increase the population in Oti for the 50 per cent turn out and 80 per cent Yes vote thresholds to be achieved by hook or crook.

I begun wondering, after all this guys may not have their votes here so it's better I discard all wrong notions about them and just treat them as neutral as they are supposed to be because at the end of the day, they are our haven in times of trouble.

The ferry on the river dispatched all at the banks to the other side for the continuation of their journey to designated areas. In the evening I was in town monitoring with my cameras to capture some scenes but all I see is some military men doing their work so no cause for alarm.

We got prepared that early morning faster than a military man ready for the battlefield. We started from Mefekope polling centre where the presiding officer, Mr Baragbor Saviour told us the town was empty as at the time because almost everyone had gone fishing. I started reading meaning into what can possibly happen at this centre when the EC workers who hail from the Oti enclave jump in bed with the security man, oh what a honeymoon of election rigging that could be. These thoughts run through my mind seeing how the village was located, it was at the outskirts of town. At this centre we can confirm the set up there was done before the 7am announced time for start of vote.

We made progress to another centre, then another centre to the other and others as though we were tasked by EC to carry out monitoring. We proceeded and did a number of centres, monitoring within Dambai until we exited the Krachi East district into Biakoye. We met the MP Hon Michael Gyato doing his rounds too.

The turnout was so low, we started discussing in our car the possibility of hitting the 50 percent turnout threshold. Some colleagues argued that it was not likely and to add my voice I checked the time to be able to make a good point that must stand valid at the end of the referendum. The time was some few minutes past 11am, it's almost midday. "With this turnout in the major towns, the 50 percent was not possible but the 80 percent Yes certainly because they all wanted Oti region and will certainly vote YES.

When we got to Kwame Akra polling centre, a young man was rejected by the BVD at least two times and shockingly, he went using stone to scratch his finger to enable the ridges to be visible for the device to accept. This was totally wrong as he was rather destroying the "lines" on his fingers hence the 'refusal' of the device to pick it. Best was for him to soak his fingers in water to soften the finger pads to allow for the device to recognise him.

Under this rare case, the presiding officer is permitted to confirm his identity and allow him through the process.
We then left after confirming their total votes cast of 40 out of 707.

At the Worawora Zongo mosque polling centre, we understood why the turnout was low. This hausa woman whom we interviewed said "the hamattan has kept me and my husband indoors. We have to finish some rounds to make us active to come out. He will soon join me to vote" she confessed amidst cheers and laughter. Indeed the weather was cold and everyone that will come out to vote was committed to the Oti agenda. Over there a total vote of 96 was recorded out of 408 after we recorded 82 votes out of 845 at Tokuranu L/A primary school.

We then left there to Jasikan, upon reaching the roundabout, we had to stop for troops of police and military armoured vehicles to pass in their convoy.

What's this? Is Ghana going to war with Iraq or there is some intelligence of terrorists attack? In fact I was terrified but I had to keep my cool as though all was well. We followed their last car and we stopped at the Jasikan police station where we were made to understand that the DCE had ordered for the release of some three men arrested by the police as his men dressed in "camo".

By then, I had read from our Volta GJA official WhatsApp platform to colleagues in the car, the "threat" as directed by the regional Police commander DCOP Francis Doku to all journalists "all journalists should report at a press centre setup for journalists at Busec (Bueman Secondary School) to pick feeds and not go to any centre to cover the elections".

I then posted on the same page my suspicion of some machinations because almost all the centres visited in some three districts were calm and peaceful.

"Sincerely I may not want to dispute the intelligence of the police commander but from where I'm specifically from Dambai heading towards Jasikan, the entire place is peaceful", I responded on the page.

This was the response from another colleague "Strategy to probably restrict media vigilance".

Then I responded "Exactly the case my brother but we won't underestimate his intelligence anyway".

All this conversation took place as of 9:27am on the GJA page. True to our assessment on the subtle curfew intended to cow us into silence, we defied it to work.

Lo and behold, it was this positive defiance that led us to discover electoral officers voting on Election Day at the Bowirsi Lackam L/A Primary polling centre. The EC had earlier allowed special voting for all security operatives and workers billed to work on the 27 December. But that we didn't take serious because it is normally allowed when that worker couldn't add his name to list of special voters but happens to work at a polling station that he has his votes. It was left with 12 persons to complete the register of 108.

But for reason of fairness, it's not proper for a judge to judge his own case in his own court. To avoid such occurrences and possible malpractices, you don't assign an electoral officer to his own polling station to work.

We then swept that under the carpet and visited the infamous Akpafu Odomi who had boycott the process with a petition against their addition to Oti region. As at 3pm, only 12 people voted out of the 790 persons on the register.
The day was almost ending and the clock fast ticking. It was at this same Odomi SCMB shed and EP Primary School polling centres that the No vote agents were issued with a 2016 presidential and Parliamentary election accreditation. How could that be Ms Mensa? The last time I checked, the only boss 'sabotaged' by her own workers was Ms Charlotte Osei.

When we got to Jasikan circuit court polling centre to witness counting, the presiding officer was in the Four Hundreds. We waited for him to add some fraction on to declare some four Hundred and something something as the total result but he continued saaa until it was left with 24 persons to complete the register of 719.

Wooow what a gargantuan victory for Oti. Oti is a done deal! I became curious, so I asked the one who operated the Biometric verification Device (BVD) if indeed all who came to vote were verified. She responded in the affirmative. Then I proceeded to the presiding officer "please I want to confirm your total voters of 695 from the BVD. He didn't hesitate and when I checked it was three Hundred and thirty-three (333).

But this is ridiculous! How come you recorded 695 voter turnout only for the device to successfully record less than half? He said the rest (386) were by manual verification. Aside a person in the register with FO (Face Only) form of identification, everyone is by the laws that establishes the mode verification allows persons without fingers to be verified using their face only and must be confirmed by the presiding officer.

The rest are to go through verification by the Biometric verification device.

Ok! Even if it's by manual verification which must happen under rare circumstances and under strict approval of the presiding officer, must it be this high, then I need to count from the main register the total number of 24 which didn't turn up to vote.

My goodness, I started counting until I lost count after 110.

What's your justification for this malpractice? I asked the boss (presiding officer).

He started shivering, he couldn't justify it then it became clear what the intention of the police commander was, but he later switched the narrative that he was acting on the orders of RESEC (Regional Security Council) then you ask yourself, questions that never get answered.

I later met the Regional Returning Officer, Mr Domey Selormey and in an interview he said "since no one complained at the polling station, and all documents have been signed, he can only accept it as a true reflection of what happened on the ground". This goes to confirm my convictions that the two major political parties are ready to battle it at the polling stations and not in court.

So you see; EC boss, please consider the peace of this nation first in the execution of your duties else many will take the laws into their own hands and jeopardise the fibre of our democracy handed to us my Jerry J. Rawlings.

You see, the child that refuses to sturdy his or her head for barbering ends up looking like a vulture.

You're very fortunate to have such knowledgeable, experienced and sober former bosses to tap from. Should you assume "the know it all" attitude, madam you might fail.
In all your dealings with the security services and the political parties, be extra vigilant else the same politician that gave you that authority will be the same that will kick you out like they did to Ms Charlotte Osei.

As for politicians, they have only one slogan "our interest first" before others.

Take all necessary steps madam and find all who raped the electoral process in Oti and bring them to book to restore at least the fast diminishing confidence we have in you and the current EC that's if there is any even left. As for your reputation I can't tell how much of it is left but take all steps necessary to go to the ant (Afari Gyan and Charlotte Osei) and learn.

Review this referendum and make your findings known to the public just as CODEO did and bring the perpetrators to book.

Ms Mensa, today all the parties benefited from the fraud. 2020 the dividends of the election fraud is for the strong and tactful so please be strong, be intelligent and above all, be strict with the electoral rules and regulations and the only way you can conduct a credible election.

If you prefer to dance to the tunes of the President hailing this shambolic process of a referendum, you may end up been deceived. Be firm and call even John Mahama and caution him against revealing his vote to the cameras. Be bold madam, be bold and conduct elections to the admiration of all including the international bodies and not the political aligned few.

All eyes are watching!

I've spoken more than I can ever imagine but a word to the wise they say is always enough.

This is your friend, a citizen and advocate for free, fair and transparent election.

Yours truly Fred Duhoe /fkmduhoe.gh@gmail.com