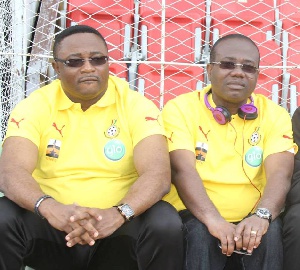 Sun, 29 Jun 2014 Source: Raymond Yeboah
Almost all the coaches who couldn't qualify from the group stage at the ongoing world cup have been humbly resigned and Kwasi Appiah is not different from the likes of Carlos Queros, Ceaser Prandelli and the rest.

l said it in my earlier articles in here that Kwasi Appiah cant help Ghana and he doesn't learn as a coach.Poor selection to the field,his demeanor as a coach, team indiscipline are the major courses in his life as coach that can't help any team in a major tourney like world cup. l am not surprise some of the players rebelled against him and cost our qualification to next stage because he is a mere local coach who lacks boldness to stand on his authority against the so called local players.


The task given to him as a coach was to qualified Ghana to the semis which he couldn't do to replicate what his predecessors the expatriate did so he should resign for he has failed as a coach.


l will not only blame the coach, Elvis Afriyie Ankrah, the sports minister too was the worst of them all,and l thank God he and his deputy have been removed from their post -they have failed the mantle which their predecessors smoothly passed out successfully.


A minister who only thinks about his stomach, he went to the tournament only for merriment,the so called ambassadors he sent to the tournament what was their impact in Blackstars abysmal performance. A minister who took supporters to night club in Brazil after a team had lost their opener is not worth his position. Again,the entire management committee of the Blackstars must be automatically dissolved from hence,what made Sulley attacked or slapped Parker?

The reason should be out for all to see but an executive member of his caliber can't infringe tribal insults on a player such as Muntari. The FA must deal with certain people who are within,they are bad luck to their progress,they don't work there but follow the team anywhere they go,extorting money from the players with their selfish gains. The so called sports journalist and radio presenters who are around the team leaking all the lies at the camp were also the cause of the team downfall.


They were the same people who hyped players on Kwasi Appiah and turned out to criticize him when he failed. And lastly,l would advise the so called quark pastors and prophets to remain mute on football matters,God doesn't prophecies on football matters, all that kind of prophecy that Ghana will qualified did not materialize .


l am done.

Source: Raymond Yeboah