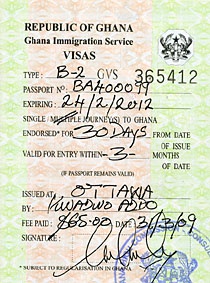 "As New York Times named Accra the 4th Best Destinations out of 46"

Author: Frank Goka


Being that my umbilical cord was planted in Ghana some decades ago, I was all exhilarated to have read in the "New York Times"—a globally-consumed media on 11th January, 2013, that Accra is the fourth best place to visit under a subheading "The 46 Places to Go in 2013" (See: http://www.nytimes.com/interactive/2013/01/10/travel/2013-places-to-go.html?pagewanted=all).


Despite my ignorance of the criteria that yielded this enviable recognition, I would like to send my felicitation to Ghanaians on this achievement; and to concurrently seek an answer this all important solemn question of mine: How ready is Ghana to host our potential visitors? This impregnated question has been like a heart-beat in my mind since I read the article, and the earlier I seek an answer to vent off the pressure, the better I think it will be for me and those who might share my opinion.


Certainly, it takes a lot of considerations for a stranger to make a choice on a country to visit for either "Pleasure" or "Business". That consideration could be as "big" as the Political Climate or a historical landmark of the country or as "small" as the phonetics (accent) of the indigenes or a unique feature. Believe it or not, some people visit UK, America, China and others just for their language. For a foreigner to visit Ghana, a Consular ought to issue a valid visa unless exempted by law. Talking of visas, I am in a position to compare a Ghana Consulate-issued visa to that of many other developed and developing countries; and I regret to mention that in this Technological Revolutionary era, Ghana Embassies are still issuing HAND-WRITTEN VISAS!


Woe betides you if the issuing officer has a cacographic or dysgraphic style of writing akin to mine. Some could be worse to the extent that, even the Immigration Officer might be tempted to seek clarification from the traveler. To mimic Pastor Otabil; when a visa is hand-written, it is absolutely appalling, and unbefitting to the good image of Ghana. But that is not all. Beside the hand-writing, the absence of a well design monumental image(s) of Ghana and the bearer's photograph on the visa makes it an ordinary piece of label. Again, when a country's Visa falls short of landmarks and bearer's photograph, it is aesthetically unappealing! First impressions counts and these deficiencies could give a negative impression which might even deter a potential tourist apart from revealing our mediocrity.

When the tourists finally arrive in Ghana, how welcoming is our airport(s)? Indeed, my tailor once had to cut my coat according to my size, but undeniably, he gave me the best shirt with unique designs that almost everyone admired. As people descend the flight and walked on the pot-holed tarmac in the shiny sun, they suddenly go "blind" as they walk through the "tunnel" leading to the Immigration arena. Apart from the narrow corridor, the poor illumination of the "Akwaaba" area coupled with wrong choice of dark floor tiles that inhibit reflection makes one "sad" on arrival. By the time he made it to the Immigration booth, he or she might be asking for an antidepressants because the architectural design of those Immigration kiosks are indeed demoralizing and an eyesore to Ghanaians let alone foreigners. We have the woods and we have highly skilled carvers, what again are we waiting for?


Another sector that will define our readiness is the transportation and the address system in Ghana. Per my observation, ANY taxi driver with ANY taxi cab—those that give tetanus, those that are generous enough to give free massage to the bones, and of course, those that give free make-ups; all ply the airport. I don't intend to deny the livelihood of my brother—the taxi driver, but I think there should be a standard as to which caliber of drivers should ply the airport and what type of vehicles should pick a passenger from the airport. There should be a Union that supervise and dispatch the drivers. Airport taxis should be equipped with Radios to enable prompt communication. GPS? Hmmm! One day maybe! Most importantly, Airport drivers should be able to speak English and basic refresher classes on Courtesy and Customer Relations should be organized periodically.


If I am right, somewhere in President Kuffour's first term, it was promised that Street-naming and House-numbering "habit" will be implemented in the country. That promise traveled to his second term and finally gave birth to Late President Mills' term. But that critical issue of National Street-naming and house-numbering for easy location of houses and businesses has been a mirage. I prayed so hard to God that, the system should be implemented prior to the National Identification Card issuance, so bearers' address will appear on the cards, but that never was. In Sierra Leone, even an alley to a solo house bears a name; and that single house is numbered. E.g. Bangura Road, Mansaray Drive, Koroma Street, etc. Ghana, are we ready?


The tourism sector needs to be vibrant and able to etch memorable images in the minds of the tourists. Existing tourist sites should be giving facelift to the international standard while more tourist sites identified and developed to avoid monotony. By now, every Region of Ghana should boast of a state-of-the-art Regional Cultural Centers which will host weekly cultural and entertainment events just as the national theatre. I have little to say about sanitation, and it's intriguing to note that Zoomlion and other companies are zooming well in keeping the city clean. I applaud their effort but we have more rooms to store improvements. However, the "Tom & Jerry" way of handling street hawkers should be fixed permanently in our cities to ease congestions.


Safety is another important factor. As a host to these tourists (local and foreign), it is incumbent on us to guarantee the safety of our guests. Safeties in terms of food security, medical care, free movements, property and businesses protection in the country. Hospitality industries should endeavor to employ people of good backgrounds who can champion these attributes. Restaurants and other food vendors should cook under strict hygienic conditions to avoid food-contact infections per Public Health standard. The Police and other Security agencies should be well equipped with latest crime combating logistics. Visiting for "Pleasure or Business" is quiet ambiguous; for someone's pleasure or means of conducting business could be detrimental to others i.e. committing acts and omissions that could put a Ghanaian in disadvantaged corner e.g. fraud, child molestation, engagement in illegal acts, etc. In any of these instances, the laws of the land should firmly deal with the culprits without fear or favor.

It is a matter of fact that Ghana is on course of winning the hearts of many people across the globe as a result of our hospitality, political stability, strong economic indicators, individual and corporate efforts in Sports and Businesses, and the gallant contribution of the Ghana Armed Forces to the U.N/A.U Peacekeeping Missions amongst others. I therefore do believe that, should these remarkable observations be given the needed prompt and apt attention, Ghana will become the dreamland of Africa at accelerated pace. May God Bless Motherland Ghana.


Frank Goka


Frango2001@yahoo.com