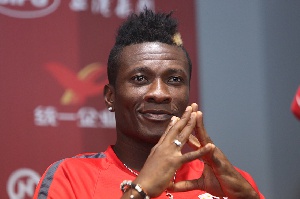 Wed, 3 Oct 2018 Source: Saddick Adams
'Asamoah Gyan returns to Black Stars' is a familiar headline. But again, he does return with a familiar baggage, which is, loads of divided opinions.
At 32 and with just some 35 minutes of competitive football under his belt the entire season, the Kayserispor man is making a shocking return to the Black Stars aiming to collect his 107th CAP, and maybe or certainly, his 108th.

Precis of the story is that Ghana has fallen on her greatest striker of all time once again because again, it is in desperate times. You might reckon that at this rate the country has successfully squeezed out all the sweet juice from Gyan after over a century of appearances on the field and a litany of turbulence off it.

The controversial goal poacher – with few weeks to mark his fifteenth anniversary since making his debut as a seventeen-year-old for Ghana – will still be the main character when the Black Stars take on Sierra Leone in Kumasi and Freetown in the eliminations to the 2019 African Cup of Nations.

He comes because his services have become substantially crucial. Like the wobbly steps of the village fetish priest to the king's palace in times of famine, how long he takes to get there doesn't matter to the village folks. What matters most, is that his arrival will deliver the rains.

Call him bench-warmer, injury-prone, divisive, controversial and erratic, but many are of the strongest conviction that Gyan's arrival will surely mark the arrival of the goals.

At least that is the only reasonable 'football reason'- as Sam Johnson puts it- behind Kwesi Appiah's decision to recall his and our saviour.

A caller on my show (in fact one of the very few to endorse Gyan's return) encapsulates it rather proverbially, that "You can always be assured of a goal from a limping Gyan than a fully-fit…".
I have shied away from mentioning the name of the particular striker he put in that sentence but put the name of any of the strikers Ghana has called in the last couple of years in those dotted spaces and that caller couldn't have put it better.

It's a shame. A nation of Ghana's repute, under the able tutelage top-notch coaches, have successfully failed to look beyond the order even when the signs on the wall are clear.

When Ralf Zumdick threw in that scrawny teenager against Somalia in Accra in November 2003, he wasn't only being daring, but as well thinking beyond a weary Isaac Boakye and Asamoah's elder brother, Baffour. And in the end, Zumdick unleashed Asamoah Gyan.

During that qualifiers chances were missed, opportunities were blown and graveous mistakes were made. Ghana didn't even qualify for the 2004 African Cup of Nations. Tongues wagged, the axes pulled and names called. But that was the process in the creation of Asamoah.

Who has dared again and stood by his grounds? Not Rajevac, Not Stevanovic, not Avram Grant and certainly not Kwesi Appiah. The latter, whose 'team building' mantra, we thought would be an aberration, but never.

Portugal may move on from Ronaldo, Cameroon moved on from Milla and Eto'o as Brazil did move on from Pele. But Ghana may practically never move on from Asamoah Gyan because successive managers have been too cowardly and the players in Gyan's position have been too lazy, inconsistent and some of them, a complete waste of space.

Not another striker to compete Gyan in goal scoring in the Black Stars, but our marked foundering in even creating a shadow of another Gyan to compliment Gyan over the years is cringe-worthy.
Asamoah is the GOAT, no doubt, but our over-dependence on him has done the Black Stars so much harm than good. Ten major international tournaments including six consecutive African Cup of Nations tournaments in Gyan's era.

His invaluable goals, indelible moments in our history and the near misses. Had there been a forward who could produce twenty percent of Gyan's goal output and we would have been counting more than four stars on our crest. But none.

The dependency, albeit at this point palpably unyielding, is so boring that after Ghana's defeat in Nairobi, the discussion in our van back to the hotel overwhelmingly concluded that we need Gyan back into the team.

Despite ending the game with four strikers on the field, fifteen chances created and zero goal on the Kasarani stadium scoreboard, I even think that in Kwesi Appiah's mind, Gyan returned to the team before we got to our hotel.

Though continuing with his bench-warming duties at a lowly-rated Turkish side, nobody seems to have the capacity to think beyond him. His colleagues, his coaches, his friends and foes.

Even when he left possibly the best league in the world to embark on his pilgrimage of Asia, he still walked effortlessly into the Black Stars, and on top, continued to set the bar so high. Perhaps if it is the low-performing others who make his bar appear so high.

Three years ago when I was covering the African Cup of Nations in Equatorial Guinea, Gyan was expected to be excused from the tournament to nurse an injury he picked in the UAE Pro League, but he was forced into the final squad.
The reason was obvious. And after Ghana lost the first game to Senegal in Gyan's absence, a historic elimination from the group stage starred the Black Stars in the face. The heat of apprehension in the Black Stars camp that night could cook yam.

There were rumours that team doctor had ruled Gyan out of the group stages hoping to return if Ghana progresses. It was however alleged that a night of the defeat, a fretting Avram Grant essentially begged Asamoah to feature in the next game against a high-flying Algeria.

A day to that game and Gyan didn't even train as I monitored from the Mongomo Hotel. Whiles he colleagues warmed up on a small pitch behind the hotel, Gyan remained stuck in an arm-chair in the lobby with his right leg immersed in ice.

The Algerian media had already ruled him out as their Ghanaian compatriots forced to say Gyan had contacted malaria. Matchday, to our surprise, he starts and scores a 92nd-minute winner after virtually walking (limping) the entire 90 minutes prior. Avram Grant's was relieved and his job was saved.

The same has been the approach of Kwesi Appiah today. He wants to brief a sigh of relief and ensure the peace of mind to continue with his job. And he knows who can ensure that in the meantime. The records are bare, even if you refuse.

That is why Gyan has the temerity to question journalists who are being objective in stating the obvious. That is why despite not being active at club side; he still finds dissenting views of his return as being disrespectful.

When Ghana started this edition of the qualifiers – it was a limping Gyan who after exclusively planning f a grand celebration for his 50th Ghana goal – put us in front against Ethiopia, before proceeding to unveil his trademark armband.
When he failed to make a return for the second game, a loss against Kenya triggered real panic. Everyone, including the coach, is fretting.

So when Gyan says he doesn't care what you all say about his return, he is obviously stating what Kwesi Appiah thinks of him, too.

He is right. It is not his fault that he always comes to deliver. He may score against Sierra Leone and expectedly make the 2019 AFCON. We may not win the title, but he will make his mark. His mark may be mediocre, but you can't blame him. Blame the coaches who can't look beyond him, and his colleague strikers who have failed to raise their own bars.

He is a legend, but four goals in his last 2 years is simply not remarkable. Nonetheless, only midfielder Thomas Partey has better returns than Gyan in that same period.

So if after 15 years and little club action but we still have to keep falling on the same 'old' Asamoah Gyan again and again, then what a shame!
Source: Saddick Adams