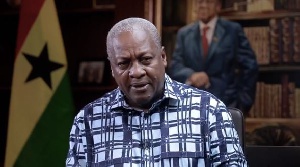 Your Excellency John D. Mahama,
I am The celebrating with joy from the top-right corner of the Ghana map, the Upper East Region, precisely Binduri. You should be here to see the ecstasy that greeted your relieving announcement yesterday to return to redeem Ghanaians from the abject poverty Nana Addo is visiting on us. There was no happier time than yesterday since you left the scene since January 7, 2017. You have been sorely missed.

I am especially congratulating you for taking such a bold decision to heed the cry of Ghanaians to you to come back in 2020. Your Excellency, what is admirable about your return most is the patient and humble manner you did it. Many were those who feared your return and have misled Ghanaians to believe you are so bad.

But we have resisted being misled like others in the Jubilee House. Like Joseph who was sold by his brothers, we sold you into opposition without knowing the poverty we are buying with our money. Today you have been hugely vindicated.

Every Ghanaian can attest to the glaring fact that fuel prices are too high; food prices are killing us; there is no money in our pockets; there are higher duties at the ports; businesses are reeling under confusing single windows ( _one Chinese businessman once remarked: 'I missed Mahama a lot'_ ); we are still in IMF pockets; there is a freeze on public sector employment albeit some more Ghanaians like Osafo Marfo's children get through.

Today we have all been shown really what nepotism is. We know really what family and friends government is now. The jubilee house is now AKYEM HOUSE. The government has become Akyem Abusua.

There is massive corruption right from the head to the toe. The President who said he is a corruption fighter has rather displayed his gross expertise in clearing corruption. His image alone is as expensive as $20,000.00.
Civil Society has become distraught with the wanton stealing of our public money through very crafty means by the deviousness of the president and his puppets. KelniGVG, Kenbond, Premixgate, BOSTgate, Cash4seat, AMERI novation, MMT scandal and many more have plagued our economy.

Today, there is no economist in Ghana. We have sold a stolen useless application called GhanaPostGPS to ourselves at $3.5million. This was led by the value for money economist whose disappointing modules have led to the CEDI's breaking jail to depreciate so abysmally to almost double the rate at which you left it.

We have seen pure reason in your useful advice for progressive implementation of a Free SHS. We did not listen. Now we are double tracking. By the time you return in 2021, we will be quadruple tracking. Wahala for you oo; there is a big mess for you to come and clear. Please prepare well.

We are also touched by your declaration that you will right the wrongs of the past. Yes, there are many wrongs that needed righting. From the National Service Secretariat to GETFUND, National Security to Birth and Death registry; all public servants who were foolishly dismissed must be reinstated.

All projects that were intentionally abandoned for nonsensical political expediency must be completed. The hopeless economy must be restored to hope. Ghana will thrive again when you come because God himself has ordained it. You will return like Joseph to redeem us.

May God give you divine protection, wisdom, patience and strength to get back to this divine role.
Thank you for coming back. We are happy, we shall vote for you massively in 2020.

Yours ever,

Assibid Dauda

The Binduri Youth Activist

Upper East Regional Youth organizer Hopeful