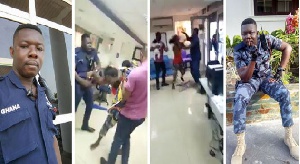 Security, safety and peace are key for any form of development the world over. That is why premium must be given to those who do the enforcement to enable them do their work without blemish. The month of July has seen our Police Service on the news for the perceived wrongs in service to Ghanaians.
From the shooting to kill (unintended?) to the beatings and as usual with us, we roar in anger, set up committees and called for the offenders to be sanctioned. But trust me, we will soon go back to our usual selves; do nothing until the next problem arrives.

What do we want out of the Police Service? How is it positioned to do that? It requires some institutional assessment and re-alignment. One thing is certain - the way our Police Service is at the moment is not in tandem with modern trends.

From the motto 'Service with Integrity', one can see we, indeed, have a job to do as a country. It is not people-driven as you might expect in a democratic society but internally focused in order to deliver on its mandate.

To modernize the Service and make it more people driven, we need to re-tweak the structure, line of communication, technology, processes and the human resource dimensions. These internal factors must be flexible and adaptive to the dynamics of the Ghanaian society.

One of the ways is to decentralized or make the Service more transparent so that it can build trusting partnerships with the local people.

Regular platforms to educate, consult, and account to the people is a hallmark of a modern police service. I am not talking about some kind of old-fashioned 'meet-the-press' sessions.
Active citizens are the real keepers of security to protect life and property and this must not be left in the hands of a single highly-centralised organization.

In the condition that the Police Service operates at the moment, we need to be asking ourselves what is the secret for the high performance of the Officers?

Just do a bit of survey, from the buildings (Police Stations?), the furniture, barracks, conditions of service, and more importantly how the officers live their daily lives, and you will wonder about how they are able to keep us safe. The point is that the basic things that Police Officers don't have to think about in order to keep us safe are not there. They struggled and we charge them to keep us safe? But because of the call to duty, for God and country, they continue to do their work.

Let us look beyond the isolated cases of Police 'wrongdoings' and put in efforts to provide them with the basic things to enable them to function well.

The creation story in the Bible tells us that God created the material things man needed first, followed by education, before sanctions were applied for wrongful conduct. Let us retool the Police Service for a Safer Ghana.