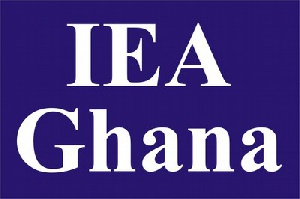 By: Benjamin, Akyena Brantuo
IF IT DOES NOT BECOME PEACE FM.

Permit me to explain.

Nana Addo Danquah Akuffo-Addo, the three-time standard bearer of the New Patriotic Party (NPP) and the President of the Republic of Ghana, won the 2016 elections with a one-touch landslide victory without attending a single debate. He was neither at the Institute for Economic Affairs (IEA) debate nor the joint one organized by the National Commission for Civic Education (NCCE) and Ghana Broadcasting Corporation (GBC).

While his competitors spoke impeccable English at Kempinski Hotel and in the pampered studios of GBC, Nana Addo was on Peace FM, speaking to the circumstances of the ordinary Ghanaian voter in a language they understand.

The IEA debates, modeled along the USA presidential debates, is not broadcasting. It is narrow casting, targeting the apex of the isosceles triangle rather than its base. It reaches out to sophisticated English audience; those on social media, the people who understand economic indicators, as advanced in text books in Oxford University by Adam Smith. Unfortunately, those are in the minority of our voting population.
However, the majority of our voting population are illiterates and semi-literate. They dominate the informal sector. They are spare parts dealers in Abossey Okai, traders in Okaishie drug lane, trotro and taxi drivers, the Ashiaman and Nima boys, the street hawkers, the artisans in masonry, carpentry dressmaking hairdressing, shoe makers, Azoka and Bamba boys, etc. They listen to Peace FM, where Nana went. Little wonder he won. He had convinced the majority.

History has it that no President won an election in Ghana with a significant help from the IEA debates platform. President Jerry John Rawlings won the 1992 and 1996 elections without attending a single debate. President John Agyekum Kufour won the 2000 and 2004 elections without attending any debate. Interestingly, Nana Addo lost the 2008 and 2012 elections after attending the IEA debates.

However, among other factors, he won this year's election because he was absent from the debate and reached out to the masses. Strangely, his main competitor who lost to him was at the debate by the NCCE and GBC – bodies that rivalled the IEA.

So why did candidates like Former President John Evans Atta Mills and President John Dramani Mahama win elections in the past after attending the IEA debates?

They won because their competitors did not choose a much more effective alternative platform. They were also at the IEA nonetheless. The competitive advantage that Nana Addo had on peace FM this year was missing then. The electorate; illiterate, semi-literates and "informal sector majority found reasons outside fine debates to inform their voting decision this time.
I should not be misunderstood. Debates organized in America and Europe work there and not here because their democratic culture varies significantly from what we have here.

Democracy properly working with all of its theories, structures, etc. is a literate political system of government and the average European voter is educated. They don't vote on tribal lines. They can vote for a Donald Trump, a political neophyte and Barrack Obama, an African-American, because they convinced them with policies.

The voters in Europe understands text book economics, work in a formalized system, have practised democratic politics in a stable manner for decades and do not struggle with basic social amenities.

Truth is, they don't have any other reliable means of assessing candidates except through debates. As compared to Ghana or parts of Africa, where because of penury and high illiteracy rate the politics of ethnicity, nepotism, naked patronage are conventional means of assessing candidates.

They need these debates such as what the IEA presented in Ghana at the Kempinski hotel.
We don't need that yet in Ghana. It is like presenting cake to a goat. It prefers fresh leaves, like what Nana Addo fed his audience on Peace FM. He spoke simple Twi on a local radio station which has several affiliates nationwide. He did not pontificate and sermonize on academic political concepts and ideologies like social democracy or market economy.

No. He responded to street rumors and allegations such as are on the lips of taxi drivers such as whether he killed his wife, he will change the capital town to his hometown or he is arrogant. He got the voter there. Nana on Peace FM did not worry about macro and micro economic statistics.

His listeners would not have enjoyed that. He told them what they wanted to hear. As Bertrand Russell puts it,if one man offers you democracy and another offers you a bag of grain, at what stage of starvation will you prefer the grain to the vote?

Nana promised free SHS, which means parents and guardians will not have to pay school fees anymore, one village one dam, one district one factory, 1 million per constituency per annum, and reducing taxes and utility bills. He gave a flicker of hope in a comprehensible manner to the voter, who could not make the head and tail of beautiful academic debates amidst the reality of their own economic hardship. This should be the future of the IEA debates. It should be the Peace FM way.

Unless the IEA and its competitors in NCCE and GBC become like Peace FM, it will die a natural death by the next electoral season, as no political party will sell where there are no or few buyers.
This is perhaps a timely advice not just to the IEA but political strategist and consultants, too. In a majority-carries-the-vote kind democracy, all efforts must be made to reach the majority and with what is relevant to them, not what is assumed relevant to them or must be relevant to them or appear relevant to you.

Akyena Brantuo Benjamin

Broadcast journalist with Ahotor FM

benakyena@yahoo.com

ahotoronline.com|Ghana