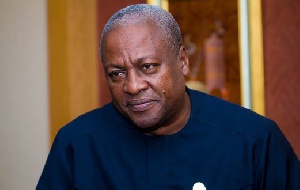 This is not a riposte at the behest of Ex-President Rawlings to refute his critics claims that he contributed immensely to former President Mahama's 2016 election defeat.
Obviously, I am not Ex-President Rawlings spokesperson; I am only a bona fide Ghanaian, who is ever ready to expose the inveterate propagandists.

I have read and listened to Ex-President Rawlings critics claims that prior to the 2016 general elections, he persistently complained about Mahama government's incompetence and corruption and chose to praise Akufo-Addo for his incorruptibility.

Thus, the Mahama loyalists are holding a phantom believe that Ex-President Rawlings's candid pronouncements somehow went against Mahama and tilted in favour of Akufo-Addo.

In fact, such an argument is impugnable. It rather scandalises the intelligence of voting public. After all, discerning Ghanaians have the ability to decipher between good and bad.

I, like many discerning Ghanaians, feel somewhat scandalised. All the same, in my quest to confute such wrench, I shall retain my emotional intelligence and show deference to my dearest readers.

First, former President Rawlings is a true Ghanaian and a statesman, so there is nothing wrong for him to speak against corrupt practices.

Secondly, Ex-President Rawlings did nothing wrong by pointing out Akufo-Addo's moral uprightness on corruption.
To be quite honest, I am struggling to get my head around why anyone could aim accusing fingers at former President Rawlings for speaking the truth.

So the Mahama loyalists would want us to believe that every single Ghanaian was oblivious to the happenings in the country prior to the 2016 general elections?

Let us be honest, in as much as former President Rawlings commands respect among the NDC foot soldiers and a section of ordinary Ghanaians, there was no way he could have persuaded anyone to change their mind and vote Mahama, considering the rampant corruptions and the irreversible incompetence.

The fact is: the diehard NDC supporters were living in a denial about the harsh economic conditions prior to the 2016 general elections.

Back then, the vast majority of Ghanaians struggled to make a living or eke an income. The fact is: the dreadful errors in decision-making, the incompetence and the unbridled corruptions culminated in untold economic hardships.

And despite the apparent harsh socio-economic standards of living back then, President Mahama and his apologists kept trumpeting their vague rhetoric , political insobrieties and meaningless slogans: 'Mahama Tuaso'; 'We care for you'; 'people matter, you matter'; 'we are transforming lives'.

Meanwhile the good people of Ghana were struggling terribly to pay their utility bills and could not even afford their children school fees.
I do not want to believe that former President Rawlings could have convinced the aggrieved Ghanaians to forgive Mahama's government over the dubious judgement debt payment of GHC51.2 million to Woyome.

Indeed, Ex-President Rawlings was not in a position to solicit votes from Ghanaians who were extremely unhappy about President Mahama's largesse to Madam Akua Donkor of Ghana Freedom Party (GFP) of two four wheel drive cars and a luxury bungalow (estimated to cost a staggering $470,000)for no work done.

No one would have listened to Ex-President Rawlings when no meaningful efforts were put in place to retrieve the monies in the following scandalous corruption cases:

The dubious Embraer 190 aircrafts deal which prompted former President Mills to set up a Committee to investigate the then Vice President Mahama.

1. The $200 million bill we incurred on the unsuccessful STS housing deal which was spearheaded by the then Vice President John Dramani Mahama.

2. The bizarre GHC800 million judgement debt payments over the last eight years.

The inexplicable $30 million judgement debt payment to Waterville which the Supreme Court of Ghana ruled as unconstitutional and ordered the NDC government to retrieve, but to no avail.
3. The wrongful $25 million judgement debt payment to ISOFOTON, which the NDC government has failed to retrieve despite the Supreme Court's order.

4. The scandal (create, loot and share) at the National Service Secretariat which cost Ghana millions of Ghana Cedis.

The SADA scandal which deprived the people of the Northern Region millions of Cedis meant for development.

5. The SUBA scandal which cost Ghana millions of Cedis meant for the improvement of the economy.

6. The GYEEDA corruption scandal which deprived the youth of Ghana millions of Cedis meant for the creation of jobs.

7. The amount of $250 million from the Euro bond which was meant for infrastructural development but lodged surreptitiously in an unauthorised bank account.

8. Inflated costs of infrastructural projects (the former Minister for Local Government, Collins Dauda raised concerns).
The crucial question one may ask Mahama faithful is: how was former President Rawlings going to persuade the aggrieved Ghanaians to change their mind over the GH9.5 billion debt former President Kufuor left in 2009 and Mahama abysmally raised it to an incredible GH122.4 billion in just eight years.

Trust me, there was little Ex-President Rawlings could do to convince unhappy Ghanaians when former President Mahama woefully shrunk Ghana's GDP from $47 billion to $37 billion in five years.

How could Mahama supporters blame former President Rawlings for NDC's humiliating election defeat when Ex-President Mahama woefully dragged an economic growth of around 14 per cent in 2011 to a nauseating 3.5 per cent as of December 2016?

The Mahama loyalists must accept the fact that discerning Ghanaians could not have forgotten the dreadful errors in judgement which culminated in economic hardships amid the unbridled business crippling 'dumsor'.

In sum, Mahama faithful should accept the fact that the vast majority of aggrieved Ghanaians voted against the NDC in the 2016 election due to the incompetence, the unbridle corruption and the unresolved dumsor which brought about harsh economic conditions.

By: K. Badu, UK.