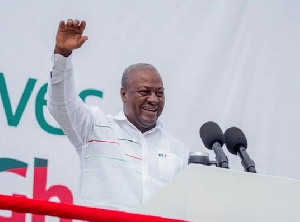 Nurses and teachers in Ghana have started blaming each other for the current harsh economic condition, massive corruption in government, nepotism etc, claiming it was the other who was responsible for the defeat of John Mahama and the NDC in the 2016 election.
According to a group of nurses and teachers who spoke to the media in the Central Region during the former President's visit to the region, teachers and nurses are already apologizing for voting out the NDC, consoling themselves that they have another opportunity to vote John Mahama and the NDC back in power in 2020.

They recalled that at the time President Mahama left office in 2016, the Ghanaian economy was still ranked amongst the best in Africa with the cedi at appreciable level against the dollar.

They said the received their salaries on time. They explained that the desperation of the Akufo Addo- led government could be understood from its gross under performance since assuming the leadership of the country, adding that the pains it inflicted on the polity has further crashed opinion poll to a near zero, owing to harsh economic policies and unwise decisions.
According to the teachers, the nurses attack them "brutally" whenever they visit the hospital for imposing an incompetent President on Ghanaians. The teachers however, blame the nurses for leading the change agenda in 2016.

The teachers mentioned teacher's license, lack of teaching materials, bad conditions in our secondary schools, the double track system, delay in salary payment, huge arrears etc as some of the challenges facing them. The nurses complained about high admission fees in their training schools, low admission, delay in allowance and salary payment, lack of drugs in the hospitals, unemployed nurses etc.