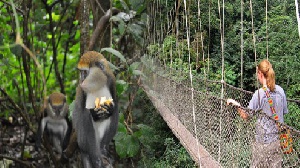 WHEN WAS THE LAST TIME you got a phone call from your service providers inquiring about your feelings on a service they rendered to you? When was the last time Melcom stores or any other electrical appliances store's employees called you to check if you enjoyed the appliances you just purchased from them?
In Ghana, 'service' has been taken out of the phrase "customer –service".

Speaking of lack of customer-service, the Ghanaian hospitality industry needs very serious tune-ups and well-designed packaged products or services that are customer-friendly to keep customers from talking evils about their lousy experiences.

Oh yes, it's nice for the vice- President Bawumia to promote the Ghanaian hospitality industry ,but I was very disappointed and surprised that he never mentioned the most important back -bone of the industry that needs tune-up and adjustments.

I know, Ghanaians don't want to hear the truth most of the time, however, it will help if we hear it from our leaders once in a while like the one we just heard from our Zongo and inner- city development minister. I know he will get a lot of flak from his own party members, nevertheless, the man gets my attention and respect—big time! He's so different and refined politician and I hope and pray he stays like that for a long haul. This brings us to the Holy Trinity Spa resort through the eyes of an unhappy visitor.
I recently took a vacation with my family and decided to stay at The Holy Trinity Spa health farm at Sogakope, Volta region .When we got to Sogakope; we saw a big billboard right after the toll booth. The first thing that turned me off was the road leading to the place. That short distance is infected with pot-holes and trash of seafood shells .As if that wasn't enough to destroy my appetite for the day; we were greeted by a big pond of water right in front of the main gate. We had the feelings that it wasn't going to be a nice vacation, after all.

After parking my car, a well-groomed room- service attendant politely came to collect our belongings and escorted us into the lobby of the hotel. That really made me swallow my prejudice for awhile. "Hey, that isn't bad at all. After all, they know how to pumper customers," I murmured to myself as we walked towards the lobby – oops, I was wrong!

Now here comes the biggie. We inquired about the prices of the rooms and there was nothing below Gh 380 per night."Really? , Yes a whopping Gh 380 a night! And by the way, it comes with nothing. Not even a breakfast.

Well, another restaurant next door took advantage of the situation and offers food around the clock with cutthroat prices, but who cares; as long as you got food to buy whenever we needed it, we were okay with it.
With that kind of room prices at the resort, it's obvious the food at their restaurant is beyond the reach of many visitors. The annoying part of it is that you can't just go there any time to buy food. Everything is based on time. Everything was regimented as if we were at Boys' Scout summer camp.

We went there on Thursday and planned to stay there for four days. However, the front desk attendant did something so crazy and literally drove us away.

This is what happened. We went out for dinner on Friday night, and came back into our room on the third floor, around 7pm just to watch TV and relax. Then we started to doze off instantly. Around eight thirty -something at night we heard a lot of noise in the hall way accompanied by knock on the doors .It wasn't a gentle knock so we jumped off the bed and I forgot to put my shirt on.

For a moment I thought there was a fire outbreak in the building. Upon opening the door abruptly I was told by one lady attendant ", come out now for 8 o'clock show. Come out right now!" "Excuse me!" I interrupted . Yeah right, there was no way for her to let us know about the program of the place ahead of time since we had been there for two days already. In short, not only she disturbed our sleep but she sent our blood pressure into the stratosphere for no better reason. That sent us packing from there the next morning without hesitation. And we don't intend to go back there anytime soon. Poor customer- service at work, folks!
Over all, that place is overrated and too expensive, considering the bare-knuckle services they offer.

The essence of this story is we don't pay enough attention to customer- service. Instead we're focusing on improving the infrastructural in the industry .It's meaningless and useless if we don't have well-trained customer –oriented service providers (who not only care about the customers' needs but treat them like kings and queens) in the tourism industry. What makes one to leave his mansion or beautiful home and spend a night in a hotel room? Obviously is not the room or the food .It's the service and a change of environment!

If we're ever going to get any dividend from this billion- dollar industry, we have to start training our future workforce about how to please customers in an unconventional ways. In fact, we should start to teach it as a subject in our JHS through university. Because just giving a lip service to the industry is not going to do us any good.

When customers are truly thrilled about their experiences with a product or service, they automatically become outspoken "evangelists" for the company. In fact, savvy marketing professionals are discovering that this group of satisfied believers can be converted into a potent marketing tool to grow businesses.
Acquiring and retaining customers are the responsibility of the entire organization, instead of the marketing department. Therefore, it should run from the top down, not from the bottom up or somewhere in between.

Before we can build a robust hospitality industry, we should start from getting our acts together and polish these important areas: Public safety, customer –service, sanitation, food vending , tendency to rip –off tourists, transportation and a whole lot of things that go into making the industry an international standardized.

In fact medical tourism or sight-seeing tourism can single-handedly solve all our employment problems and much more if we can focus on it and weed out its impediments.

If most tourist centers in the country has no standard hygienic toilet facilities then we have a long way to go if we want to attract 'visitors'.