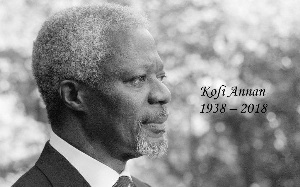 We've come far as a nation, yet we have a long way to go. Individually, many true Ghanaians have chalked enviable successes internationally in many notable fields of endeavour.
Kofi Annan is one of such. Undoubtedly, for now, he is the greatest Ghanaian to have ever lived, and the most industrious African to have ever walked the earth surface.

On the other hand, collectively, we haven't achieved much as a country and continent because nation-building goes beyond the efforts of one person or few people. And sadly, a bulk of our people are not ready to respond to local, national and international calls that demand selflessness, commitment and dedication.

Reflecting on his life retrospectively, for me, quite frankly, at age 80, whatever Kofi Annan needed to have done for humanity before his death, he's done it. He's paid his quota. His death should be more of a celebration than mourning. He's a LEGEND who must be celebrated!
The heavy onus has undeniably been placed on all young ambitious Ghanaians and largely, Africans to do their part in the lives of others.